Norwegian quartet Blood Command have been considered a well-kept secret for the best part of a decade. However, since the release of last year's acclaimed 'Cult Drugs' LP, that has started to change. Their mix of hardcore, pop, metal and punk, which the band describe as "deathpop", is an adrenaline rush full of infectious and defiant songs. Songs such as 'Gang Signs' and 'You Can't Sit With Us', along with the title track showcase their rapturous, genre-flexing sound. While album closer, '(The World Covered In) Purple Shroud', is a frenzied six-minute blast with rumbling percussion, a charging melody, oh and the use mariachi brass horns.
Unfortunately, there has been very few opportunities to see Blood Command on these shores; the current incarnation have only made a few appearances over here with one being an impressionable outing at 2000trees this past summer. Thankfully, they're returning this week to kick off a run that consists of headline shows along with dates supporting Rolo Tomassi.
As they prepare to travel throughout the UK, we asked the members of Blood Command to curate a playlist of songs they're going to be jamming whilst on the road in the coming weeks.

Follow us on Spotify for more playlists.
White Reaper – Judy French
Yngve: Gives me Cheap Trick vibes. I love this anthem! It feels like I'm in an episode of 'That 70´s Show'.
Daughters – The Reason They Hate Me
Yngve: This kick-ass band have come back after a breakup with their first record in eight years ('You Won't Get What You Want'). And they've totally nailed it. That song is the best thing I've heard in 2018
Tommy Cash – Winaloto
Yngve: We saw this artist when we played Roskilde Festival in 2017 and we were totally blown away. This is the hardest shit I've ever seen
Halsey – Without Me
Karina: I've been listening to Halsey's new song, 'Without Me', because I love the vulnerability in it, and it's just overall a great song.
Ghost – Dance Macabre
Benny: This song is my foundation for a great day!
Yngve: I'm not into Ghost at all, but this song really rips. That chorus <3
Of Grace And Hatred – Demonic Courtesy
Snorre: This is the only song I listen to at the moment. Badass banger.
Yngve: LBR fam and friends. Bergens best-kept secret.
Run The Jewels – Panther Like A Panther
Yngve: Fucking sick track. I feel so badass when I'm listening to it.
The Replacements – Can't Hardly Wait
Sigurd: This is one of my favourite songs of all time. I listen to it at least twice a day. The double guitar that starts the song, the driving drumbeat, the beautiful violins and trumpets topped with Westerberg's charmingly hoarse singing sounds perfect to me.
Skinny Puppy – Assimilate
Simon: Because I like punk music, synthesizers and drum machines… in that order. Classic track.
Oscar Peterson Trio – Tristeza
Sigurd: I think this is the coolest version of the song. It's quick. It's tight. It is alive!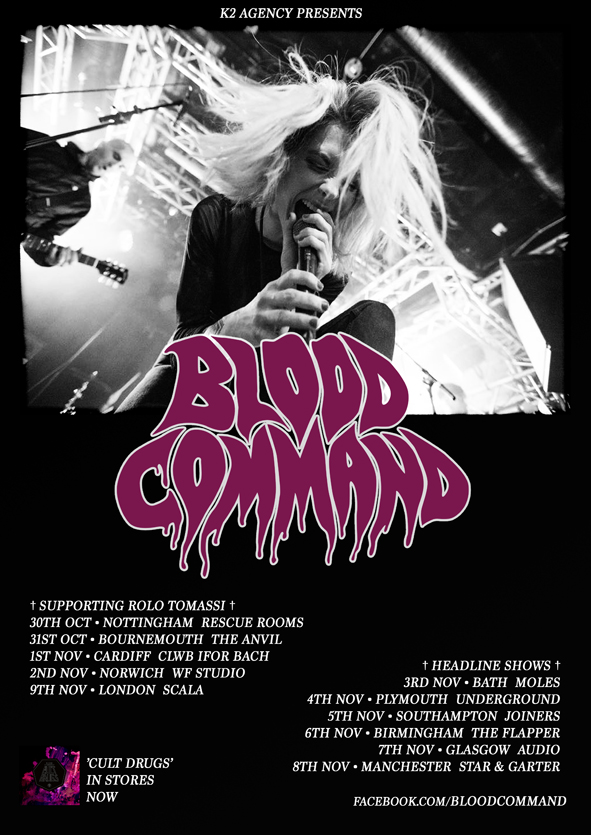 October (*with Rolo Tomassi):
30th Rescue Rooms, Nottingham*
31st The Anvil, Bournemouth*
November
1st Clwb Ifor Bach, Cardiff*
2nd WF Studio, Norwich*
3rd Moles, Bath
4th Underground, Plymouth
5th Joiners, Southampton
6th The Flapper, Birmingham
7th Audio, Glasgow
8th Star & Garter, Manchester
9th Scala, London*
Blood Command links: Facebook | Twitter | Bandcamp
---
If you have enjoyed reading this article and would like to help us produce more content and promote more great new music, please consider donating to our Patreon page.