As much as we love maintaining Already Heard, it comes at a price. Every contributor to the website does so voluntarily around full-time commitments. So, last month we launched a Patreon campaign.
Our Patreon consists of two tiers:
1. The Tip Jar:
Like what we do, then support us for as little as £1/$1.39 a month.
2. Independent Music Supporter:
For £5/$6.95 a month you will receive a handpicked release or compilation courtesy of our partnership with several independent labels from the UK, the US and Australia.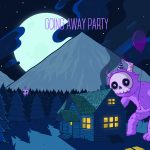 This month's reward comes from London punk rock label Disconnect Disconnect Records. They are rewarding our Independent Music Supporters with a copy of the self-titled album from Going Away Party.
With a firm range of emo and punk influences, 'Going Away Party' is a raw set of songs that are sure to win over fans of The Get Up Kids, Texas Is The Reason and You Blew It!
If you want to support on Already Heard on Patreon and get your copy of 'Going Away Party', then head this way!
Disconnect Disconnect Records links: Website | Facebook | Twitter | Bandcamp
---
If you have any questions about our Patreon campaign, please leave a comment below or tweet @SeanReid86.