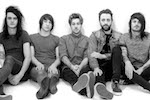 Bristol based quintet Out For Tomorrow have revealed details of their debut album. 'You'll Find A Way' will be released on 5th May.
1. White Noise
2. Give Me A Reason
3. Your Shining Star
4. One Last Time
5. Strike A Match
6. You Belong With Me (Interlude)
7. If I Could Have You
8. You Are Your Own Enemy
9. The Nicest Thing
10. Take My Place
The video for the first single from the album, 'Give Me A Reason' can be viewed by clicking read more.