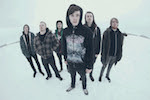 UK death metal hopefuls Nexilva have posted a new track called 'The Misdirection of God'.
The track appears on the bands forthcoming 'Eschatologies' album, which is set to be released on April 7th via Ghost Music and Subliminal Groove Records.
1) I: Teste Humanitatem Mori
2) The Misdirection of God
3) Our Progenitor
4) This Is Humanity
5) II: Scientaia Tenebris
6) Necromancer
7) The Collapse
8) Eschatologies
9) Cybernetic Lucidity
10) III: СКЕЛЕТ
11) Premonitions (ft. Ricky Lee Roper)
12) Invasion
13) Evil Will Prevail (ft. Meyrick De La Fuente)
14) IV: Non Magis Adrogantiam
Stream 'The Misdirection of God' by clicking read more.