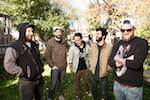 Canadian progressive metal band Protest The Hero have released the latest music video from their recent 'Volition' record.
The video for 'Tilting Against Windmills' and features footage from the bands recent UK and European tour.
Protest The Hero will be back in the UK later this year for the Sonisphere Festival.
Click read more to view the video.