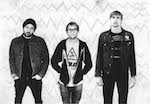 New Jersey / Wales based grunge punks Pale Angels have revealed they will release a new 7" called 'Strange Powers' through Specialist Subject Records in August.
The EP will consist of 3 new songs and a cover The Feelies' 'Crazy Rhythms'.
A1. Just Faces
A2. La Esquina
B1. Crazy Rhythms (originally by The Feelies)
B2. Romantic Depression
The opening track from the 7", 'Just Faces' can be streamed after the jump below.