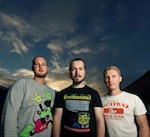 Oxygen Thief have announced they will release a new album titled 'The Half-Life of Facts' on 16th June 2014 through Xtra Mile Recordings.
Unlike the bands recent 'One Day This Will All Be Field' EP, it will be a full band release.
1. The Incredible Sulk
2. Trial & Improvement
3. Too Many Trees
4. Hubristolian
5. Crowbars Up!
6. Vectors
7. Co(extra)ordinates
8. Self-Righting Mechanism
9.Con.script.shun
10. It's Life Jim, But Not As We Know It
11. Loch Ness Monster Truck
12. Bench Press Your I.Q.
The first track to be released from the album, 'Co(extra)ordinates', can be streamed by clicking read more.