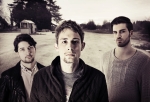 Kyte have announced they will release a new album entitled 'Love To Be Lost' and will be released on 17th June through Eastworld Recordings.
1. Breaking Bones
2. Scratches
3. You & I
4. Almost Life
5. Over, After
6. Every Nightmare
7. Friend of a Friend
8. September 5th
9. Aerials
10. Half Alone
11. Love to Be Lost
12. Blood Anger
13. Salt in The Water (bonus track)
14. Sickly words of Wisdom (bonus track)
The video for 'You & I' can be viewed by clicking read more.