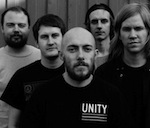 Having been highlighted as one of our must hear releases for May, Goodtime Boys have posted another preview of their forthcoming debut LP – 'Rain'.
The track is titled 'Wallflower' and can be streamed by clicking read more.
'Rain' is set to be released on May 20th via Bridge Nine Records.