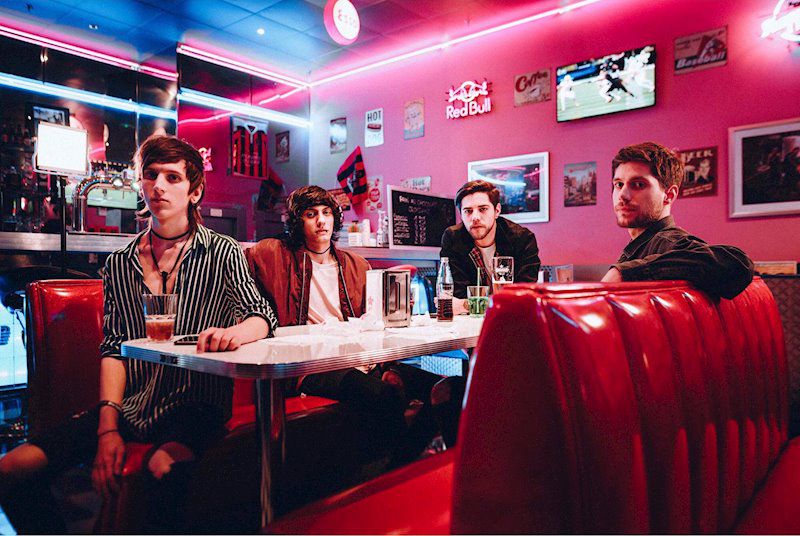 On their eponymous debut EP, The Sunday Sadness sparkle by blending synth-laden, infectious hooks with melancholy lyricism. Wrapped in a glossy, cinematic skin, the Bordeaux based group weave in elements of 80's synth-wave, alt-rock and hip-hop to create their self-styled brand of "dark-pop".
Over the course of its seven tracks, the French quartet showcase an eclectic style. 'The Wrong Way' is an entrancing number with rapid vocals before delivering a soaring chorus. While 'Damn I Hate It' carries itself with an irresistible groove that fellow Frenchmen Daft Punk would be proud of. The ominous 'Someone' highlights the smooth vocals of Matthieu Kirby alongside a pulsating beat. In a similar fashion, 'Lost In The Crowd' struts along with plenty of pop flair and a touch of hip-hop.
Despite their neon-tinged and nostalgic exterior, The Sunday Sadness have an emotional core as the EP explores the fate of someone that lost it all; their ambition, relationships and the will to connect with a failed, modern society.
Ahead of its imminent release, we spoke to Matthieu Kirby and drummer John Fine as they broke down music by the numbers, telling us about the bands everyone needs to hear, the songs they wish they had written, those all-important essential tour items and more.
1 Artist I Couldn't Live Without…
John: Linkin Park is the band I grew up with. They shaped my vision of music and made me want to become a musician. Even nowadays, when I don't feel quite right I know there's an LP song that can help me out.
Matthieu: Chase Atlantic. About a year ago I was at a point where I was really craving for some new, fresh and unheard music that I could obsess over. I tried many bands but couldn't get the feeling I was looking for. They randomly Chase Atlantic came in my suggestions feed and I instantly fell in love with their vibe. Now I need to listen to them at least once a day.
2 People I Know, That Shaped My Passion For Music…
John: Croisade – one of my best friends who also happens to be a brilliant composer. He taught me how to write music and showed me how to stimulate my creativity.
Matthieu: Back when I was 17, Nicolas Gadrat was the guitarist of a pretty big local band where I live and I used to look up to that band. Things lead to another and we ended up being best friends and created a band called As Clarity Falls. So we've spent entire weekends in our rooms writing music. It was the first time I was actually writing and recording music.
3 Songs You Wish You'd Written…
John: 'Somebody Else' by The 1975. The lyrics tore out my heart when I first listened to it. And the mood is just so unique! It's a terribly sad song, but also a song you could dance to.
The 1975 – Somebody Else
Chase Atlantic – Ozone
Linkin Park – Easier To Run
4 Bands Everyone Should Hear…
John: Cherry Pools! They are an awesome alt-rock band in the vibe of The 1975. They only have an EP out for now but I'm pretty sure they're gonna go big.
Matthieu: Everyone should hear Swimming Girls. All their songs are straight bangers. They're a dream-pop band from the UK. The singer, Vanessa, has a pretty unique voice and her melodies are obsessing. I also love this new band called The Ghost Club, the singer sounds just like Brendon Urie, they only put out one song but it pretty much went viral since the song is so well produced.
1. Cherry Pools
2. Swimming Girls
3. The Ghost Club
4. No Rome
5 Songs You Love…
Matthieu: 'Love Scenario' by the k-pop band iKon. The melody of the chorus is very original and just so catchy. I heard that Korean primary schools had to forbid singing this song because the kids couldn't stop singing along to it. You can actually find compilations of this on YouTube! All of us in the band are a huge fan of K-pop music and I could list many songs, but if you had to check one go for 'Fake Love' by BTS.
John: 'I Fall Apart' by Post Malone, 'Easier to Run' by Linkin Park. Do I really need to explain why?
Ikon – Love Scenario
BTS – Fake Love
The 1975 – Give Yourself A Try
Post Malone -I Fall Apart
Linkin Park – Easier To Run
6 Bands You're Keen To Play With…
John: The 1975, they're definitely putting out the best show ever! It would be such an honour to play with such legends. Bring Me The Horizon are just so on point too. Based on the recent footages of their tour, it's pretty safe to say they're going to be one of the biggest alternative rock bands soon.
Matthieu: Chase Atlantic. I've seen them live and their set is so energetic. It's one of those bands that sound really different live than in the studio, but in such a good way. They're definitely rocking the stage.
The 1975
Tokio Hotel
Bring Me The Horizon
Chase Atlantic
Pale Waves
Waterparks
7 Places You'd Love To Play…
John: I guess. Japan or Korea because the lifestyle is so different. The relations between artists and fans seem also pretty different. We want to discover new places, go out of our comfort zone and in a certain way, connect with the music that inspires us daily since we're such huge fans of Korean and Japanese music.
Séoul
New York
London
Tokyo
Mexico
Berlin
Korea
8 Essential Tour Items…
Blankets
Escape the Fate – 'Dying Is Your Latest Fashion' album
Neck Cushion
Water
Guitar picks (loads of guitar picks)
Hair straightener
Portable charger
Laptop
9 Words To Describe Your Band…
Nocturnal
Nostalgic
Emotional
Aesthetic
Synths
Retro
Alternative
Dark
Pop
10 Favourite Albums Of All Time…
Matthieu: My Chemical Romance – The Black Parade. Everything about this record is perfect. The lyrics, the songwriting, the production, the music videos that came with. It's one of those records that I need to listen to on a regular basis and I just can't skip a track.
John: Meteora by Linkin Park. This record is a masterpiece, I went through life with these songs by my side and I will continue to live by Chester's word.
Linkin Park – Meteora
Linkin Park – Minutes To Midnight
Post Malone – Beerbongs & Bentleys
The Midnight – Endless Summer
Pale Waves – My Mind Makes Noises
Chase Atlantic – Chase Atlantic
My Chemical Romance – The Black Parade
Good Charlotte – The Young And The Hopeless
The 1975 – I Like It When You Sleep…
Savant – Protos
'The Sunday Sadness' EP by The Sunday Sadness is released on 15th February.
The Sunday Sadness links: Website | Facebook | Twitter | Instagram