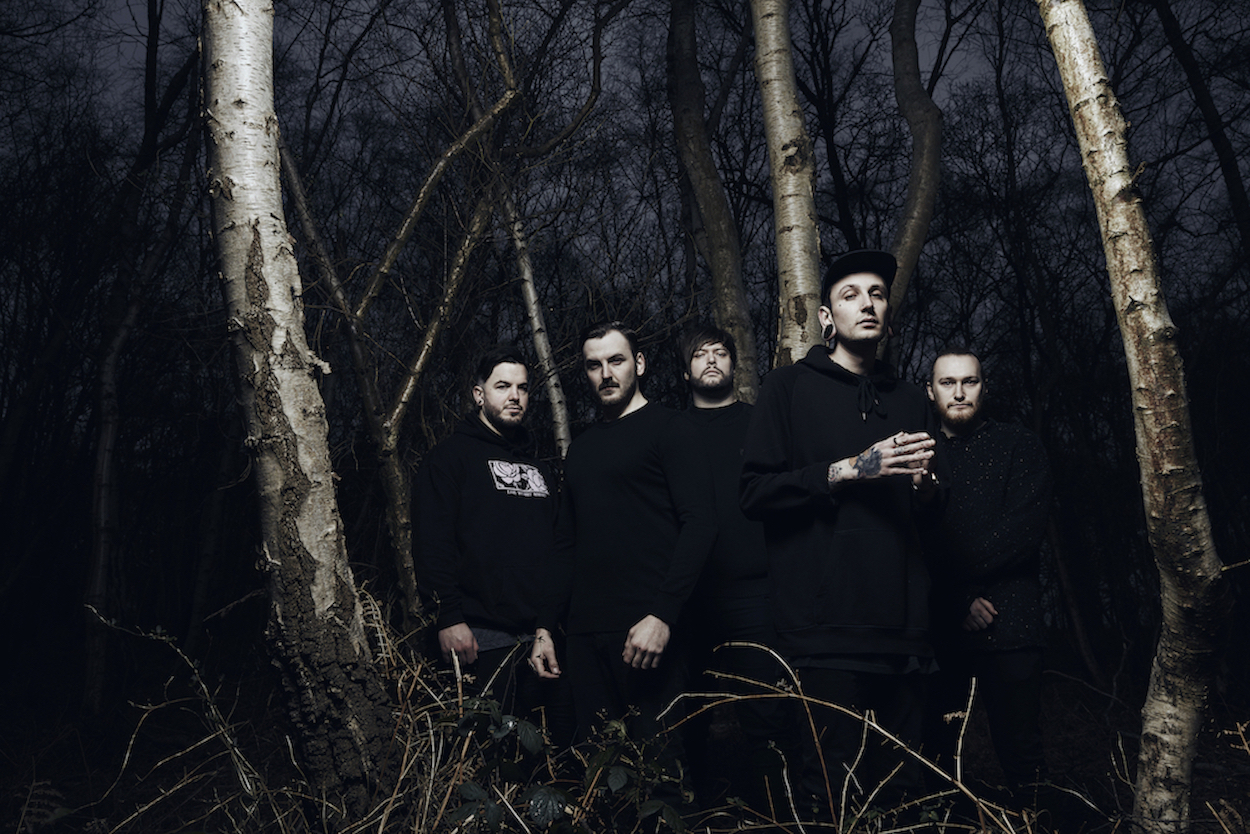 Southampton metalcore upstarts Our Hollow, Our Home have returned with their second album – 'In Moment // In Memory'. It's an intense yet cathartic take on the genre as guitarist and melodic vocalist Tobias Young channels the pain of losing his father to cancer by going through various stages of grief. The emotional narrative complements the harsh, thunderous style of OHOH, proving to be a compelling record.
The blend of monstrous breakdowns, soaring impassioned melodies, uncompromising guttural growls from Connor Hallisey and a relentlessly heavy delivery, cements Our Hollow, Our Home as the rising band within the UK metalcore scene.
Having penned an achingly emotional and dramatic record, we decided to shift the focus to Young's musical interests. Read on as he tells us about the people who have shaped his passion for music, the bands he wants to share a stage with, his essential tour items and more.
1 Artist I Couldn't Live Without…
Charlie Simpson. He has been somewhat of a musical hero of mine since my early teens. Although I have enjoyed every project he has worked on (and that includes Busted), Fightstar has been one of my favourite bands since 2005. I don't think a week has gone by since then where I  haven't put on one of their records! Above all, I really admire his songwriting and the versatility of his vocals.
2 People I Know, That Shaped My Passion For Music…
It would be impossible to credit just two people here. From my partner and family, through to the guys in my band and the excellent team we work with. They have all helped me shape the way I am as a musician and the way Our Hollow, Our Home has progressed over the last few years.
3 Songs You Wish You'd Written…
Thrice – Red Sky
Architects – Gravedigger
Hans Zimmer – Time
4 Bands Everyone Should Hear…
Skywalker
The Uncharted
Behind Blue Eyes
Sleep Token
5 Songs You Love…
Trevor Rabin – Long Distance Goodbye / Landing
Create To Inspire – Blue
Hands Like Houses- Colourblind
Dream On Dreamer – Don't Lose Your Heart
The Amity Affliction – Chasing Ghosts
6 Bands You're Keen To Play With…
Parkway Drive
Hands Like Houses
Architects
Erra
A Day To Remember
While She Sleeps
7 Places You'd Love To Play…
Download Festival, UK
House Of Blues, Orlando, USA
Warp Tour (RIP)
Anywhere in Japan
Chain Reaction, California, USA
The Roundhouse – London UK
Anywhere in Austria
8 Essential Tour Items…
Wet wipes
Headphones (To avoid insanity)
127 cans of Monster Energy (per person…)
Your mobile phone
Deodorant… the shower in a can
Snacks…
A Pillow
A BBQ, yea we take a BBQ…
9 Words To Describe Your Band…
Melodic, cinematic, uplifting, emotive, heavy, passionate, catchy, Metalcore, atmospheric
10 Favourite Albums Of All Time…
Thrice – Vheissu
Fightstar – Be Human
Story Of The Year – In The Wake Of Determination
Hans Zimmer – Inception
Funeral For A Friend – 7 Ways To Scream Your Name
Veil Of Maya – False Idol
Hands Like Houses – Dissonants
The Amity Affliction – Youngbloods
Killswitch Engage – The End Of Heartache
AFI – Sing The Sorrow
'In Moment // In Memory' by Our Hollow, Our Home is out now on //Hollow Music.
Our Hollow, Our Home links: Website | Facebook | Twitter | Instagram