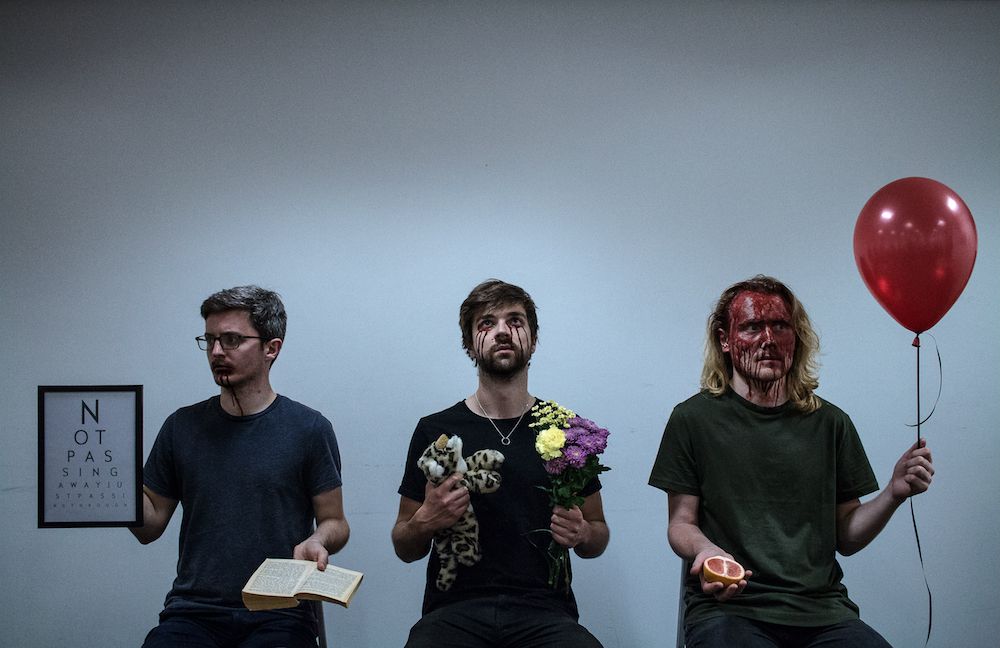 For Cambridge alternative-punk trio, Goldblume, the release of their debut album 'HUSK' has been a long time coming. Nevertheless, after a three-year journey, Jethro Steel (guitar/vocals), Tim West (bass) and Matt Kilsby (drums) are set to release a unique record that combines elements of math-rock, grunge, punk and alternative rock. Considerably a mature step forward, songs such as 'Tomorrow', 'We All Know Why And Who' and 'Razor' capture the bands fuzz-laden, infused style, proving to be a compelling rush. While the three-part finale, 'Loose Fruits', puts emphasis on the mental health narrative that weaves its way throughout 'HUSK'.
Ahead of its imminent release this Friday on Aaahh!!! Real Records, we spoke to Goldblume guitarist and vocalist Jethro Steel as he answered the "Music By Numbers" survey.

Follow us on Spotify for more playlists.
1 Artist I Couldn't Live Without…
Matt Bellamy of Muse.
2 People I Know, That Shaped My Passion For Music…
Our respective parents for agreeing to get us/teach us our instruments.
3 Songs You Wish You'd Written…
Five by Five – Apple Cider
O'Brother – Cleanse Me
The Mars Volta – Ouroborous
4 Bands Everyone Should Hear…
Bad Books
FES
Mk. gee
Heatmiser
5 Songs You Love…
Howards Alias – Rabbit in Headlights
The National – Pink Rabbits
Engerica – Trick or Treat
Radiohead – Jigsaw Falling into Place
Jamie Lenman – Shotgun House
6 Bands You're Keen To Play With…
Don't Worry
&U&I
Jamie Lenman
Turbowolf
Frauds
Press to Meco
7 Places You'd Love To Play…
Milwaukee
Austin
Holland
Portsmouth
Cardiff
Liverpool
Glastonbury
8 Essential Tour Items…
Underwear, Ear Plugs, Disposable Camera, Phone Charger, Spare Strings, Reusable Carrier Bag, Headphones, and Plush Bear Mascot.
9 Words To Describe Your Band…
Bearded Tight Rhythm Section Seeks Colourful Frank Black Impersonator
10 Favourite Albums Of All Time…
Throwing Muses – Purgatory/Paradise
Arcane Roots – Blood and Chemistry
Elliott Smith – Figure 8
Elbow – The Seldom Seen Kid
Muse – Black Holes & Revelations
Blink-182 – Take Off Your Pants and Jacket
Tubelord – Our First American Friends
Rage Against the Machine – S/T
WHY? – Alopecia
Touché Amoré – Parting the Sea Between Brightness and Me
'HUSK' by Goldblume is released on 9th November on Aaahh!!! Real Records.
Goldblume will be touring the UK on the following dates:
November
8th Portland Arms, Cambridge
11th Smokehouse, Ipswich
12th Pipeline, Brighton
13th St James Wine Vaults, Bath
15th Vault, Leicester
16th Ostrich Inn, Peterborough
17th Hunter Club, Bury St Edmunds
22th Dog and Whistle, Hertford
24th Arts Centre, Haverhill