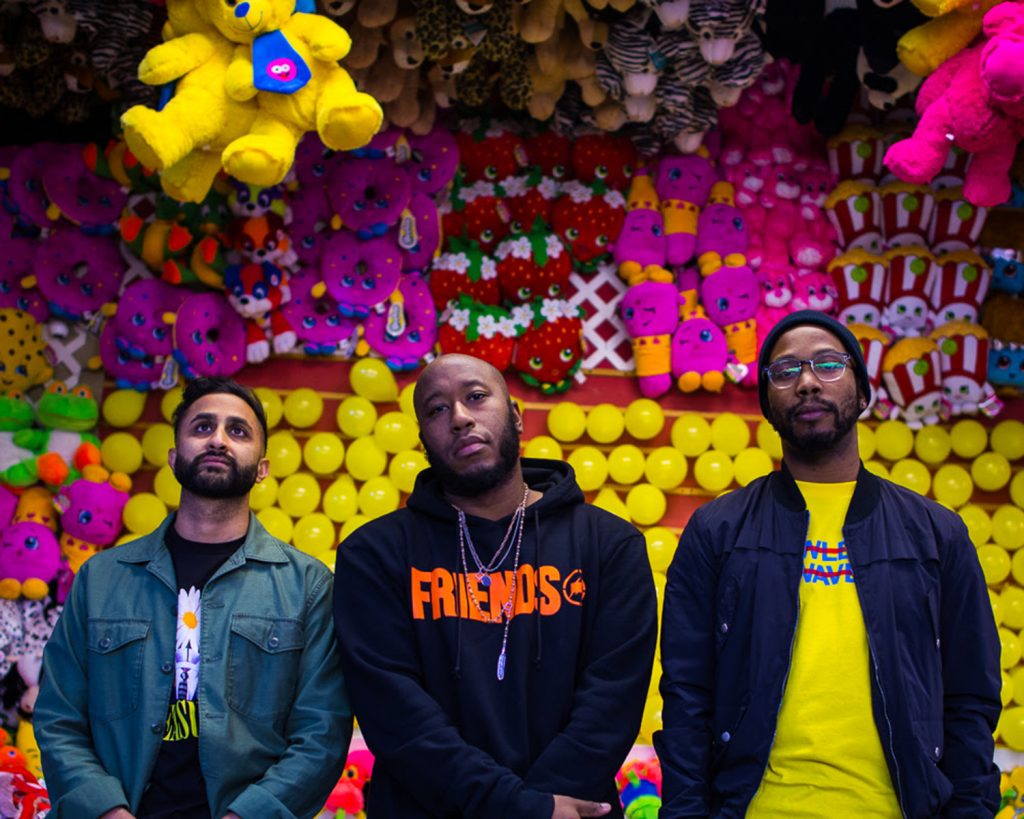 If you have followed the career of Boston, MA trio Bad Rabbits, then you'll be aware of their ability to confidently move between and mould styles together. Their discography has seen them dip their toes in rock, funk, electro, soul and R 'n' B. Having embraced their rockier side with 2016's 'American Nightmare' LP, their latest release ('Mimi') is drenched in smooth, soulful vocals courtesy of Fredua Boakye' with a return to their funk and R 'n' B past serving as its musical spine. While the fictional title character links the seven songs together.
Like the character, 'Mimi' is an infectious, fun, and sexy release that captures the band's lighthearted side. From synth-led funk of 'Dollars & Change' to the slick and soulful 'F on the J-O-B', 'Mimi' radiates with coolness.
As they prepare to release a certified late summer soundtrack, drummer Sheel Davé talked music by the numbers with us, telling us about the songs he wish he had written, how he would sum up Bad Rabbits in nine words and more.
1 Artist I Couldn't Live Without…
Erykah Badu
2 People I Know, That Shaped My Passion For Music…
My Sister and Mr. Jodice (music teacher in middle school)
3 Songs You Wish You'd Written…
Billie Jean – Michael Jackson
24 Karat Magic – Bruno Mars
Juicy – Notorious BIG
4 Bands Everyone Should Hear…
Glassjaw
Deftones
Kaytranada
Goldlink
5 Songs You Love…
Erykah Badu – Green Eyes
Glassjaw – Two Tabs of Mescaline
Chance the Rapper – All Night
Goldlink- Dark Skin Women
Michael Jackson – Butterflies
6 Bands You're Keen To Play With…
Anderson Paak and The Free Nationals
Bruno Mars
Drake
Pharrel Williams
Prince
Erykah Badu
7 Places You'd Love To Play…
Japan
New Zealand
South Africa
South America
India
Brazil
Malaysia
8 Essential Tour Items…
Underwear
Socks
Dryer Sheets/Febfreze Fabric Spray
Mad Pills for – allergies, colds, headaches and shit
Pedialyte Packets
Extra Chargers
Noise Cancelling Headphones
Laptop
9 Words To Describe Your Band…
Black
Indian
Pranks
Funky
Dookie
Friends
Boogie
Heavy
Inspiration
10 Favourite Albums Of All Time…
D'Angelo – Voodoo
Erykah Badu – Mama's Gun
Glassjaw – Worship and Tribute
Deftones – White Pony
Silverchair – Neon Ballroom
Talib Kweli – Reflection Eternal
311 – Music
Every Time I Die – The Big Dirty
Hum – Downward Is Heavenward
Michael Jackson – Thriller
'Mimi' by Bad Rabbits is released on 10th August on InGrooves.