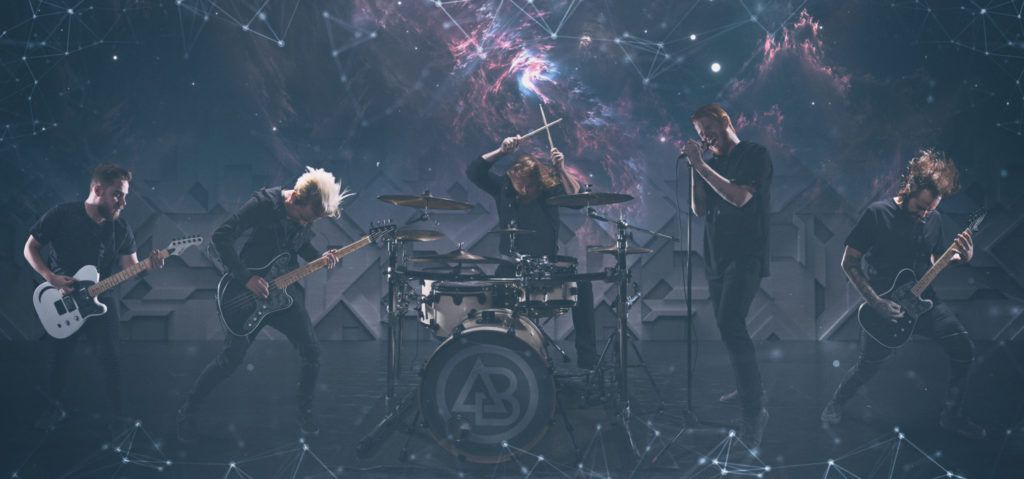 This past February, Spokane, Washington's Alive In Barcelona released their self-titled full-length. Providing a blend of bold, anthemic hard rock and post-hardcore, it marks a new chapter for the quintet having previously been known as The Persevering Promise. Nevertheless, it's an assured new start with their eponymous effort showcasing their melodic and technical prowess alongside a lyrical tone of hope. Having experienced personal and professional loss, Alive In Barcelona's execution is genuine, deep and heartfelt. Songs such as 'Know My Name', 'Back to Life' and 'Zombies' (featuring Escape The Fate's Craig Mabbitt) highlight AIB's ability to pair towering hooks with heavy instrumentation.
With a powerful set of uplifting songs now out in the open, we decided to speak music by the numbers with Cameron Douthat. The guitarist spoke about the one band he can't live without, the songs he wished he had penned, essential tour items and more.
1 Artist I Couldn't Live Without…
One band that I would have a hard time living without would be Between the Buried and Me. In my opinion, they are the most talented collection of musicians ever to come together in one band, and they have made a career out of blending every genre imaginable together through some of the most well-constructed and calculated songwriting rock music has ever seen.
I'm also lucky to be able to call their guitarist, Dustie [Waring], a dear friend of mine, and I would really miss all of his awesome jokes if his band didn't exist, so I couldn't imagine living without them for multiple reasons.
2 People I Know, That Shaped My Passion For Music…
I attribute my passion for music to are my Dad, and Justin Lowe from After the Burial. My dad is an incredibly talented drummer, and I picked up the drums because of him when I was 10 years old, and he has been my biggest supporter with all of my musical endeavours ever since.
Furthermore, Justin inspired me more than pretty much anyone else both musically and personally. I met Justin when I was 12 years old, and he was so encouraging when it came to following my dreams of playing music for a living. We kept in close contact over the years, and the last time I was lucky enough to see him in person he was so supportive of my decision to transition from being a drummer primarily to playing guitar for what became Alive in Barcelona. He followed a similar musical trajectory with After the Burial.
Just before I went on my first tour ever, he gave me a ton of advice for both live performance and life on the road, and he even showed me how to use my Axe-Fx properly. I miss him every single day, and I don't think I would have ever developed the courage to pursue music seriously if it wasn't for his encouragement.
3 Songs You Wish You'd Written…
I really wish I would have written are 'Shadow Moses' by Bring Me the Horizon, 'Never Lose Your Flames' by Issues, and 'Hollow/Twenty One' by Wage War.
'Shadow Moses' is so anthemic, and the reaction that it gets from crowds when they play it live is so mind-blowing. They never cease to impress me, and I would love to pick their brain someday and learn from some of the best rock songwriters out there currently. 'Never Lose Your Flames' is also such a catchy song, and it perfectly blends interesting guitar melodies and rhythmic sections with catchy vocals, and I feel like it would be such a fun song to play in a live setting.
Finally, 'Hollow/Twenty One' by Wage War is so heavy, and it perfectly captures everything I love about metalcore music. The chorus is huge, the breakdowns hit you like a truck, and the vocal performance captures so much emotion.
4 Bands Everyone Should Hear…
Crystal Lake is an insanely talented metalcore band from Tokyo, and they just signed to Sharptone Records (which is killing it right now, you also need to check out Polaris and Alazka).
Normandie is a post-hardcore/alternative rock band from Sweden, and I think they write some of the most forward-thinking, catchy music in any -core genre currently.
Night Verses are an awesome instrumental band, and their latest album had some of the most unique arrangements I've heard in a long time.
Finally, Rivals are also on the same label as us, and not only are they amazing people, but their music is so powerful. Kalie has one of the best singing voices in the genre, and she's also super charismatic. She fronts a band better than pretty much anyone else. You can't go wrong with any of those bands.
5 Songs You Love…
Lower Definition – If We Speak Quietly
This Town Needs Guns – Gibbon
$uicideboy$ – 122 days
Polaris – Lucid
Whitechapel – When A Demon Defiles a Witch
6 Bands You're Keen To Play With…
I would love to play with Bring Me the Horizon and A Day To Remember because the venues they play are absolutely insane, especially for bands that started out in deathcore and metalcore. I feel like we could learn a ton from them.
I would also like to play with Betraying the Martyrs, Born of Osiris, Erra, and Slaves (US) just because I've known the members of those bands for a very long time and I love those guys. There's nothing more fun than sharing the stage with your friends, and I always have an amazing time when I'm around either band. At least I'll get to mark off playing with Erra at So What?! Music festival at the end of April!
7 Places You'd Love To Play…
Scotland
France
Germany
Italy
The Netherlands
Australia
Japan
My fiancée is from Scotland, and I've travelled there multiple times, but every time I've been to a show there. I've been blown away by how passionate fans are in that country, and aside from getting to play for her family members. I would love to hear a Scottish crowd sing along to our songs. They put their all into singing along with bands, and hearing that with our music would be an incredible experience.
I've also visited France, Germany, Italy, and The Netherlands before, and I loved spending time in all of those countries so much. Returning to play a show there would be such an incredible experience.
As far as Japan and Australia are concerned, I've wanted to travel to both places for such a long time, and I feel like both countries constantly have amazing bands popping up. The fans in those countries also seem to be really passionate, and it goes without saying that the cultures and architecture present in both countries is among some of the most incredible on the planet.
8 Essential Tour Items…
Nintendo Switch
My in-ear monitors from MEE Audio
A nerf gun (because shooting my bandmates is always fun)
Books of some sort
A towel (I forgot this on my last tour and it made me miserable)
My phone
Wet wipes/toiletries
Swimming trunks
9 Words To Describe Your Band…
Driven
Relatable
Compassionate
Powerful
Fun
Humorous
Lively
Uplifting
Passionate
10 Favourite Albums Of All Time…
Between the Buried and Me – Colors
Erra – Augment
Lower Definition – The Greatest of All Lost Arts
All That Remains – The Fall of Ideals
Born of Osiris – The Discovery
Northlane – Singularity
Issues – Issues
The Dear Hunter – Act II: The Meaning Of, and All Things Regarding Ms. Leading
Periphery – Periphery II: This Time It's Personal
Bullet For My Valentine – The Poison

Follow us on Spotify for more playlists.
'Alive In Barcelona' by Alive In Barcelona is available now on Smartpunk Records.
Alive In Barcelona links: Website | Facebook | Twitter | Instagram