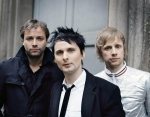 Muse have announced they will release a new live CD/DVD/Blu-Ray, 'Muse – Live At Rome Olympic Stadium' on 2nd December.
The film will have a limited cinema release with 20 cinemas in 20 cities showcasing the film on 5th November with the likes of Sydney, London, Los Angeles, Rome, Tokyo, Paris and Rio being part of the 20 cities.
Whilst on 7th November the film will be screened in 100 cinemas worldwide for one day only. The show was filmed in Ultra High Definition, and a trailer can be viewed after the jump below.
CD:
1. Supremacy
2. Panic Station
3. Resistance
4. Hysteria
5. Animals
6. Knights
7. Explorers
8. Follow Me
9. Madness
10. Guiding Light
11. Supermassive Black Hole
12. Uprising
13. Starlight
DVD/Blu-ray:
1. Intro
2. Supremacy
3. Panic Station
4. Plug In Baby
5. Resistance
6. Animals
7. Knights of Cydonia
8 .Explorers
9. Hysteria
10. Feeling Good
11. Follow Me
12. Madness
13. Time is Running Out
14. Guiding Light
15. Undisclosed Desires
16. Supermassive Black Hole
17. Survival'
18. Isolated System
19. Uprising
20. Starlight