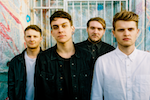 Leeds quartet Morain have released a cover of The Police's 'Every Breath You Take', with accompanying "cheesy" 80's video to top things off.
Morain's vocalist Wil Frost explains how it came about:
"This has started to become something of a tradition for us. When we released our Are We Lost EP in 2012 we decided to cover The Cure's 'Love Cats', just for a bit of fun during the campaign and it went down really well, which was great. So when the idea was mentioned again for our new EP 'Worlds Apart', we couldn't resist. We channelled some cheesy 1980's vibes into the video which was pretty funny and ridiculous to shoot. Hopefully people will enjoy it and realise it's all very lighthearted"
Click read more to hear the bands take on the classic song.