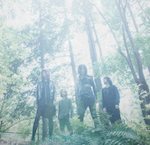 Japanese instrumental band MONO have been confirmed as the next headliner for the ArcTanGent Festival joining This Will Destroy You, Russian Circles and God Is An Astronaut. It will be the bands only European festival appearance of 2014.
Takaakira Goto of MONO made the following comment:
"We are very honored to play at ArcTanGent Festival this year alongside so many incredible bands. Our new album is currently in progress for a release date later this year, so hopefully we will share a preview of it. As always, thank you for your support. Somewhere between the soundscapes on an open field, we meet again."
ArcTanGent takes place at Fernhill Farm, Somerset and will take place from August 28th to 30th. Tickets for ArcTanGent are on sale now and can be purchased here.