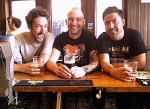 Möngöl Hörde's self-titled album will be released on Monday (May 26th), and the trio have posted two tracks; 'May Way' and 'Blistering Blues Barnacles' , and can be heard after the jump below.
The band also posted the following message regarding the album earlier this week:
"MONGOL HORDE IS MORE THAN A BAND. MONGOL HORDE IS A MOVEMENT.
MONGOL HORDE IS AN INVASION.
That's not actually true. Mongol Horde is a band. We don't really want to talk about it. So here's some answers to questions we imagine you might be itching to ask:
London.
From the Van Pelt song "We Are The Heathens".
No.
Kill the fucker, slowly, with a blunt knife.
Yes. Tour dates in June coming soon, plus Reading and Leeds.
Lots of stuff – Refused, Napalm Death, Converge, Hot Snakes, Kenny G, your mum.
Yes.
Why in the living fuck would we?
Probably.
Hello to all our fans in Mongolia. And your mum."
'