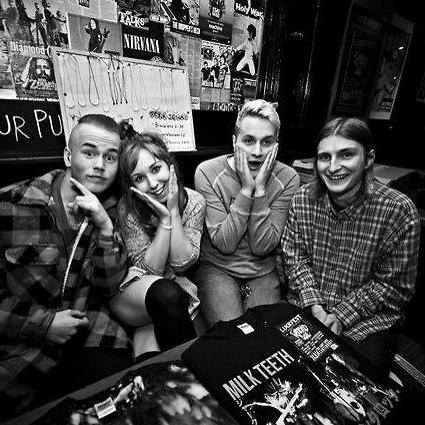 Bristol grungers Milk Teeth have released the music video for their song 'Kevin Malone'.
The track is the B-side to their recent single 'Vitamins', but originally it could only be heard on the cassette release. A second pressing of the cassette is now available to purchase here on the Venn Records website.
You can catch the band at the following shows:
September
13th 2 Pigs, Cheltenham w/ Crooks + Dreamcatcher
15th The Haunt, Brighton*
16th The Exchange, Bristol*
17th Bodega, Nottingham*
18th New Slang, Kingston*
19th The Garage, London*
20th The Oobleck, Birmingham*
27th ManchFester, Dry Bar, Manchester
October
3rd WTFest 6, Southampton
4th Temple of Boom, Leeds w/ Moose Blood + Headroom
6th The Old Blue Last, London w/ Moose Blood + Headroom
9th Brudenell Social Club, Leeds +
10th Sound Control, Manchester +
11th Fibber Magees, Dublin +
12th Audio, Glasgow +
14th Victoria Inn, Derby +
15th Epic Studios, Norwich +
16th Dingwalls, London +
31st Fighting Cocks, Kingston +
November
1st Joiners, Southampton +
* w/ Jaws + Fickle Friends
+ w/ Balance and Composure + Seahaven
You can watch the video by clicking read more.