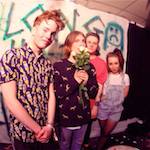 Stroud quartet Milk Teeth have announced they will be releasing a new single titled 'Vitamins' through Venn Records on May 19th.
Side A: Vitamins
Side B: Kevin Malone
The single will be available as a free download through the band's Bandcamp page. The single will be released as a limited cassette (limited to 100).
A video message from the band, can be viewed after the jump.