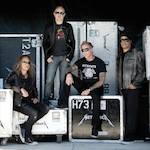 Metallica have announced as the final headliner for this years Glastonbury Festival. They will headline the Pyramid Stage on Saturday, June 28th.
The band posted the following message:
"We've made no secret that there was still one live music festival on our wish list that has eluded us… until now! It is with a great deal of pride that we announce that we have been tapped to headline the Pyramid Stage at the Glastonbury Festival on Saturday, June 28th! There is such a vibe at Glastonbury and it's maybe the most quintessentially English festival, so when we finally got that call to visit Worthy Farm, we just had to reply with a resounding "YES!"
Glastonbury is the largest green field festival in the world and over the forty plus years of its existence, a widely diverse group of artists have graced the stage including Paul McCartney, Oasis, David Bowie, U2, Muse, Stevie Wonder, Radiohead, Neil Young, Jay-Z and so many more. We're psyched and honored to be among the first hard rock bands to hit the Pyramid Stage and join this prestigious group.
As this is a late addition to the schedule, this show will not be a "By Request" night… guess we'll have to go back to writing the set list ourselves! For those of you looking for the By Request show or a second dose of 'Tallica, we will be just down the road a week later at Knebworth for Sonisphere on July 6th, which we thought might be our only chance to visit the U.K. this summer until the Glastonbury call came in last week. Hope to see you at both!"
The full line-up for Glastonbury 2014 can be viewed by clicking read more.