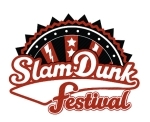 The third Slam Dunk Festival announcement has been made with Mallory Knox, Kids In Glass Houses (exclusively playing 'Smart Casual'), We The Kings, and Chiodos being some of the names added.
Other names announced today are The Red Jumpsuit Apparatus, Gnarwolves, Modern Baseball, MC Lars, Heart of a Coward, Save Your Breath and Ghost Town.
Whilst for ska punk fans, Jesse James will be reforming exclusively for the festival. Finally Capdown will be returning to Slam Dunk as well.
May
Fri 23rd Slam Dunk Scotland: Liquid Rooms, Edinburgh
Sat 24th Slam Dunk Festival North: Leeds University
Sun 25th Slam Dunk Festival South: The Forum Hertfordshire
Mon 26th Slam Dunk Festival Midlands: Wolverhampton Civic
Tue 27th Slam Dunk Wales: Newport Centre, Newport