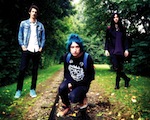 Derby three piece LostAlone have revealed details of their new album – 'Shapes Of Screams'.
Set to be released on April 7th through Graphite Records, 'Shapes Of Screams' sees the band working with producer Dan Weller (Enter Shikari, Young Guns, Sharks).
1. Crusaders
2. The Bells! The Bells!!
3. Hostages (Destiny)
4. Sombre Party (Legacy)
5. G.U.I.L.T.Y
6. Mental Health
7. Apathy
8. Scarlet Letter Rhymes
9. I Was Born To End This Way
10. Requiem
11. Doooooooooomageddon (Global Thermonuclear Metafictional Warfare)

12. Breathing In The Future Exhaling The Past
The release will coincide with an April headline UK tour as well several festival appearances.
March
15th Takedown Festival @ Southampton University
29th Radstock Festival @ Liverpool O2 Academy
30th Radstock Festival @ Newcastle O2 Academy
April – UK headline tour dates
3rd St Albans The Horn
4th Oxford O2 Academy
5th Canterbury Penny Theatre
6th Swansea Sin City
7th Camden Barfly
8th Exeter Cavern Club
10th Cambridge Portland Arms
11th Milton Keynes Craufurd Arms
12th Coventry Kasbah
13th Nottingham Rock City (basement)
14th Manchester Sound Control
15th York Fibbers
16th Edinburgh Opium
17th Inverness Ironworks
18th Dundee Beat Generator
July
26th Redfest @ Robins Cook Farm, Surrey
The video for the first single from the album, 'The Bells! The Bells!!' can be viewed by clicking read more.