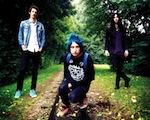 Derby three piece LostAlone have released the first video from their forthcoming album, 'Shapes Of Screams'.
The track is called 'Scarlet Letter Rhymes' and can be viewed by clicking read more.
Steven Battelle made the following comment about the track:
"I wrote Scarlet Letter Rhymes whilst submerged under water in a hotel swimming pool in Finland. I fleshed it out in a dream where I was the captain of a flying pirate ship caught in some turbulence and crashed into another time. When I awoke I found lying next me a book first published in 1850 called the Scarlet Letter. The video has absaloutly nothing to do with any of this other than its chaotic interpretation of the riffonomics within"
'Shapes Of Screams' is set to be released on April 7th through Graphite Records.
April – UK headline tour dates
3rd St Albans The Horn
4th Oxford O2 Academy
5th Canterbury Penny Theatre
6th Swansea Sin City
7th Camden Barfly
8th Exeter Cavern Club
10th Cambridge Portland Arms
11th Milton Keynes Craufurd Arms
12th Coventry Kasbah
13th Nottingham Rock City (basement)
14th Manchester Sound Control
15th York Fibbers
16th Edinburgh Opium
17th Inverness Ironworks
18th Dundee Beat Generator
July
26th Redfest @ Robins Cook Farm, Surrey