View more photos here.
It's been awhile since We Are The Ocean have graced us with their presence, so tonight's the ideal opportunity to see them back in action. And they've bought along two of the country's most promising acts along for the ride.
First up is Geordie quartet Boy Jumps Ship. They produce a vibrant brand of melodic alt rock that is reminiscent of 'Louder Now' era Taking Back Sunday. With their strong showing of bold, anthemic choruses, the four piece receive a positive yet under-whelming response. Much like their latest 'Lovers & Fighters' EP, they have the catchy tunes to win people over but they're easily forgettable. (3/5)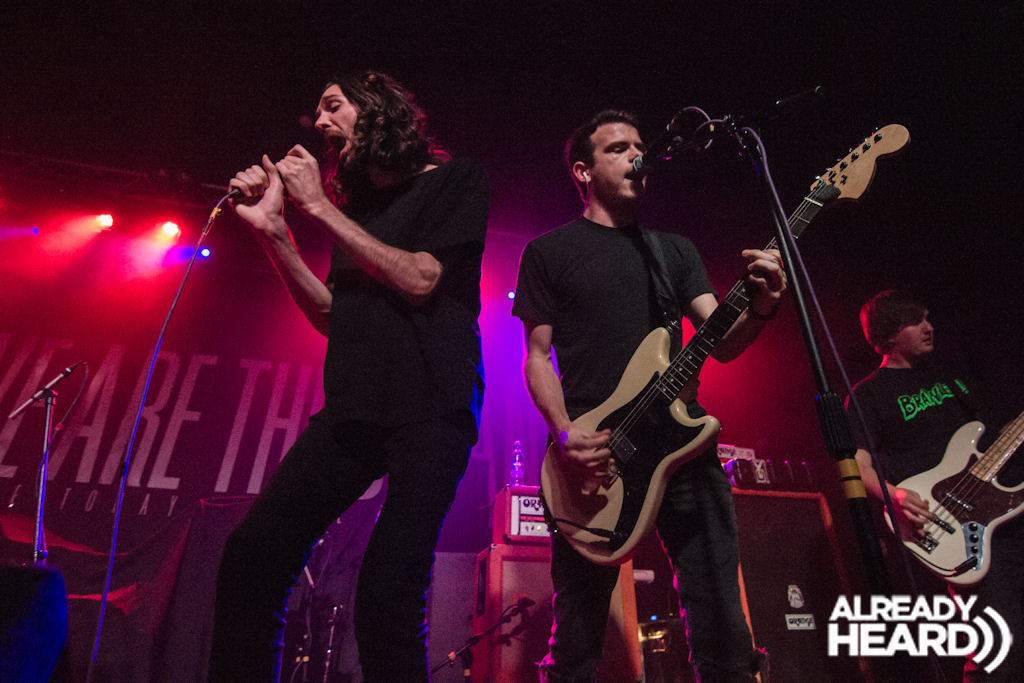 View more photos here.
Next up is Decade. Having released their impressive debut 'Good Luck' early this year, tonight they remind us how good the LP is. 'Brainfreeze' and 'Callous' get a strong showing with vocalist Alex Sears especially raising his game in a live capacity. Although the crowd aren't as responsive or as energetic as numbers like 'British Weather' and 'I Don't Care' require, we're still left impressed with Decade. They show just why they're one of the brightest emerging UK bands. (4/5)
Whether you love or hate how We Are The Ocean sound these days, their evolution from post-hardcore to melodic alt-rockers is admirable and has certainly paid off. Tonight the quintet (they've added a keyboardist) are making a return after being away for the best part of the year. Kicking off with some "oldies", 'Runaway' is sung in unison word-for-word, 'What It Feels Like' is as anthemic as ever and 'Now and Then' flourishes with its bold pop-rock sensibilities.
Without a doubt WATO have the songs to have the crowd in the palm of their hands, and they deliver them in abundance. 'Machine' is as powerful as the first time we heard a couple of years back, and although 'Confessions' slows the momentum down, the raw emotion of the song still shines through.

View more photos here.
As for new songs, we're treated to two cuts from 'Ark' which will see the light of day next March. First up is a number called 'Sweet Little Lies' which is described as a "headbanger" by the band and proves to be a slab of powerful hard rock with towering organ keys, larger than life riffs and domineering drums. Whereas the album title track ('Ark') is edgy with twisting harmonies and a slow yet bold buildup. If these early indicators are anything to go by, we can expect a record that thrives on sharp riffs and Liam Cromby's soaring vocals. If so, we won't be complaining.
To round things off 'The Road' is vibrant and even deafening. Whilst the encore sees Cromby taking to the stage alone to play 'Chin Up' and allows both him and the crowd another opportunity to sing in unison, before 'The Waiting Room', 'Young Heart' and 'Trouble Is Temporary, Time Is Tonic' ends the night on a resounding high.
Tonight was a welcomed return and stark reminder of how great We Are The Ocean could be. For whatever reason, 'Maybe Today, Maybe Tomorrow' wasn't the big breakthrough I thought it would be, but now WATO sound refreshed and reinvigorated and are gearing up for an exciting 2015. If they keep producing performances like this, they're set for a busy twelve months. (5/5)
4/5
Words by Sean Reid (@SeanReid86.) Photos by Carrie-Anne Pollard.