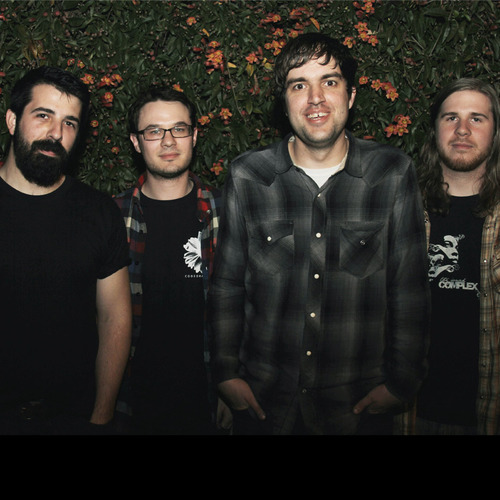 Man, Sunday night gigs. Aren't they just the worst? On a night reserved for roast dinners and a few hours of crap television to numb the pain of it being Monday morning after you go to sleep, you have to drag your carcass down to a gig and have people perform in front of your face. Chuh. However, tonight's entertainment is worth braving both sloth and pouring rain for, as Bostonians The Saddest Landscape make one of their rarer-than-rocking-horse-refuse visits to our shores.
However, before The Saddest Landscape took the 100 Club's odd-looking stage (very long and not very deep, like watching a band in widescreen), The Tidal Sleep kick us off with a solid set, seemingly undaunted by the matter of this being their first ever run of UK dates. The Germans treat us to a tight set of post-"Wave" melodic hardcore; a blend of Touché Amoré if they were actually able to write songs more than two minutes long and our very own Goodtime Boys. A promising set from a band evidently grateful to be over here – perhaps not as exciting as the "Euroskramz" the mainland can sometimes purvey, but just as worthy of your time.
Frameworks are a Topshelf Records band, but don't let that fool you into thinking the band are predictable, as their unique brand of post-hardcore is uncategorisable, embracing influences from the realms of indie rock, post-punk and screamo. The set puts me in the mind of NJ art-rockers Trophy Scars; no throwaway comparison as I consider Trophy Scars to be one of the most underrated bands on the planet. The band continue to surprise and delight with a fiery cover of The White Stripes' 'Fell In Love With A Girl', alongside cuts from their excellent 2013 EP 'Small Victories'. An enticing showcase from a band that should be far bigger than they are.
Finally, The Saddest Landscape begin their headline slot; though their set is short, not a moment goes to waste, the mark of a band firing on all cylinders. Considering it's Sunday night, the crowd reaction is a little reserved, but as a small but fervent group at the front encroach more on the stage, the divide between stage and floor is erased as their vocalist ends up in the embrace of the audience by the last song. While it's not executed flawlessly (some technical difficulties during a new song mar the performance slightly), their ruthlessly fast and hard style is everything one could want from a band of their ilk, and everything one loves about live music. It's been 3 years since I caught this band live (so long ago that Kerouac were still together and supporting) – don't leave it so long again gents.
Words by Ollie Connors (@olliexcore)