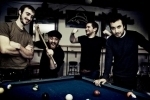 Leeds has always been a hotspot for shows, especially in regards to the punk, hardcore and emo variety. Tonight is a perfect example of this (minus the hardcore part), and sees three great bands put on a fantastic show to boot.
Beginning such an extravaganza is Sheffield emo/indie rock duo Nai Harvest. Their set is a mile stone for the band as it's their biggest show to date. With such an opportunity to expose their output to a large audience, the band waste not a single second. Kicking things off with 'Whatever', the title track from their superb debut LP, one can feel the frictitious and vibrant energy on offer. This energy hooks many people in, even from the very back you can hear the front singing along to the a few songs. As well as playing material from album 'Whatever', the band don't shy away from the noodley aesthetics of early material like 'The Bikes & the Basement'. The duo is catchy, borderline shouty, melancholic and steady, all elements which uphold the band brilliantly. As well as recent and older songs, the band showcases a couple of new songs on an upcoming seven inch due for release in the winter. The songs have slower parts, which have a Dinosaur Jr. vibe about them, before fuming off in a fast indie punk tempo, quintessentially the band's own formula. Ending on 'Sitcom Fade-In', the duo end on a high note as they succeed in grabbing the crowd hook, line and sinker; bravo guys! (4/5)
The anticipation for this next band has been growing at a fast rate since they announced these UK shows. Despite losing three of their members, guitarist/vocalist Ben Walsh and Keyboardist/vocalist Brianna Collins have ploughed through with the help of three friends, which include former members of Basement. Now, here at the Cockpit in Leeds, indie rock cult favourites Tigers Jaw are ready to show their fabulous palette.

The five-piece treat their ecstatic fans to a slew of crowd favourites, beginning with 'The Sun' which sounds just as fuzzy and loveable on record.  You don't even notice the line-up change as the band are incredibly tight presenting the fabric of what makes them Tigers Jaw. Moody heart on sleeve melancholy, pop guided instruments and a brash but charming honest energy. Whilst the likes of 'Smile' and 'Jet Alone' are passionately grin inducing, the biggest reaction is greeted towards material from their much loved self-titled LP. 'Never Saw It Coming', 'Plane vs. Tank vs. Submarine' and 'Chemicals' just cause the crowd to go crazy and sing all the way to the heavens. It's a wonderful spectacle to behold, but this is brightened further by the news that the band will release a new album in the near future. By a stroke of genius, Tigers Jaw finishes their set with classic song 'I Saw Water' which sees voices raised higher and stage dives galore. To quote a phrase written in tipp-ex on the wall outside, "Long live Tigers Jaw!" (4/5)
After watching two great bands, a music fan would find it impossible to think the evening could get any better than this. As soon as The Menzingers start playing, all doubts are annihilated. Opening with 'The Obituaries', the Scranton quartet display a tireless energy from the get go. They play an anthemic ball of catch with their fans, who sing along to every belter of a song the band has to offer in their setlist. 'Good Things', 'A Lesson in the Abuse of Information Technology' and 'Time Tables' are just a few cuts of such a fine smorgasbord on offer this evening. Besides the honed songwriting, it is the delivery and reactions that truly define this moment. Endless stage dives and group shenanigans present a wave that sees no sign of dying down. Finishing off with a cover of 'Are You There Margaret? It's Me, God.' by The Lawrence Arms and 'Casey', the band just leave their fans baying for more.
Their wishes are sure enough answered as the band comes drum rolling into 'I Was Born'. From then on the fun simply continues for the feverous front row. 'Irish Goodbyes' sees drinks held high and spilt in a sweat filled push fest. The crowd is treated to another cover in the form of Operation Ivy's 'Knowledge' which sees Francis Hunt of Stand Out Riot and Leagues Apart fame take vocal duties. Once this has ceased into submission, the band leave and cements this high note with crowd pleaser 'Sunday Morning'. Now this ladies and gentlemen is how you end a show, you'd have to have seen it to believe it, either that or wait till The Menzingers return; it'll be worth the wait. (4.5/5)
4.5/5
Words by Aaron Lohan (@ooran_loohan)