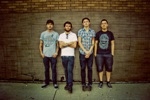 With the weather in Manchester being inconsistent as always and a hard working week drawing to a close, a gathering of all the young punks assemble for what will be a rowdy night of alcohol consumption and singing along to the finest songs written by one of Canada's best punk bands.
Stepping off the bus and into the venue, I welcomed by the sharp technical melodies and harmonious choruses of Yorkshire's The Fear. Despite playing a set that is tight and bristling with energy, the band only receive a luke warm applause from the distant crowd who are reserving their energy for tonight's headliners. All in all, The Fear do have the potential to be a killer live band if they iron out a few creases here and there but for now they make a good warm up band.
Walking on to the stage and fine tuning their equipment, it doesn't take long untill The Flatliners strike the first chord and begin warming the impatient drunken rabble to their glorious anthems of gruff. The energy truly envelops when they start playing 'Eulogy,' which sees the buzz of a few passionate fans at the very front to spread the infectious fever all the way to the back and far sides of the room. The likes of 'Count Your Bruises' and 'Hal Johnson Smokes Cigarettes' help to push such a positively ill condition to cause a unison of loud harmonies amongst the crowd.
All that remains is the widest of grins on every individual in the room here tonight who have been well treated to a tight set filled with banter and great tunes. The next time The Flatliners are in town please go give them a warm welcome as they'll flatter you with the rowdiest of shows.
4/5
Words by Aaron Lohan (@ooran_loohan)