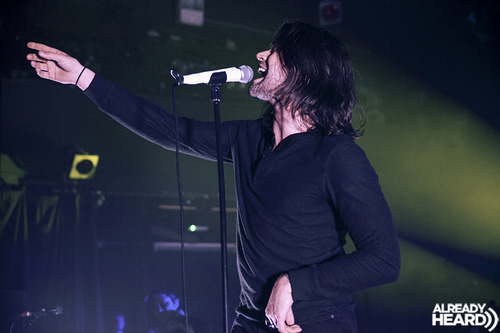 A major annoyance of Taking Back Sunday's handful of UK shows is that it seems to have been received as a nostalgia/anniversary tour, when in fact Taking Back Sunday haven't exactly shied away from the music scene, or touring the UK in general.  Overseas to promote forthcoming album 'Happiness Is', this certainly isn't a TAYF10 tour like the ones in the US, and those expecting a set like this will be left disappointed, as while Taking  Back Sunday aired their classics, they also displayed some of the best tracks from their more recent releases.
Openers Lonely the Brave, kick things off with guitar-driven anthems, reminding me in a way of a Cambridge Biffy Clyro. Their live performance manages to be both understated and grandiose at the same time, but they struggle to resonate with the huge venue. It's hard to be the sole opener for a well-established band like Taking Back Sunday, and despite their best efforts, Lonely the Brave failed to make an impact, unable to warm up a crowd who only want to see one band. (2/5)
View photos of Lonely The Brave @ Koko here.
Taking Back Sunday are playing it safe tonight, sticking to the exact same set list (including a large chunk of stage banter) that had been used at their shows earlier this week. There are no wild cards, or room for changes here, but at the same time the familiarity of their set gives it a certain slickness.
Highlights include fan favourite 'Timberwolves at New Jersey' plus new single 'Flicker Fade', which bridges the gap between their early stuff and the more indie-rock tracks from their most recent self-titled album.
Less famous songs such as 'My Blue Heaven' are generally well received and my favourite newer Taking Back Sunday song 'Best Places to Be A Mom' is as catchy as ever. 'You're Last Summer' is met with a rousing sing-along (and a rather frantic mosh pit) and new song 'Beat Up Car' is greeted with an appreciative rapture.
I'm surprised to say this, but I actually thought that 'Cute Without the E (Cut From the Team)' was the low point of the night, maybe due to the desperate overplay in alternative clubs, or maybe because Taking Back Sunday themselves don't particularly seem to enjoy playing it. Their encore is also slighted by the inclusion of 'Call Me in the Morning', which is potentially the most boring song they've ever written, but redeemed with closer 'MakeDamnSure', which is one of those songs which refuses to grow tiresome.
Overall, Taking Back Sunday approached their set like a dedicated recipe, ensuring there was an equal mix of fan favourites and more obscure songs, plus a few new ones to test the water for their latest album. While I would have liked to have heard more from 'Happiness Is', I'm picking holes in what was a brilliantly well received set.  Taking Back Sunday have once again proved beyond all contest that they're more than just a handful of ten-year-old songs. (5/5)
View photos of Taking Back Sunday @ Koko here.
5/5
Words by Jay Sullivan. Photos by Connie Taylor Photography.