After a 2 year absence, one of the UK's premier metal and rock festival made its grand return as once again Sonisphere took over the legendary Knebworth House to celebrate 40 years of rock at the country house. And to make things even better, the sun decided to pay a visit for a majority of the weekend. With 3 days full of music and plenty to see, Sonisphere had a lot to offer.
Friday July 4th
Our weekend starts off in the intimate Satellite Stage where Pontypridd, Wales rockers Straight Lines provide a favourable set that just about woke up weary heads with their hook-filled brand of rock. With a selection of cuts from their recent 'Reflections' EP and 'Freaks Like Us', frontman Tom Jenkins' vocals soar throughout the set yet the crowd's unfamiliarity with Straight Lines in general leads to the band's set to come off as ineffective at times. (2.5/5)
Over at the Bohemia stage, Canterbury draw a small yet dedicated crowd as they played a short set highlighting the best parts from their latest full-length 'Dark Days'. Although Canterbury are perhaps one of the more lighter bands of the weekend, their mix of alt-rock, pop sensibilities and atmospheric elements manage to win the crowd over. (3.5/5)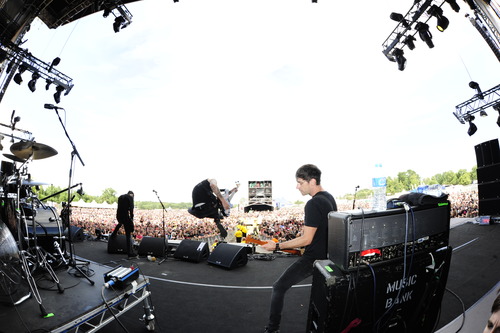 Back outside in the blistering sun, US political punks Anti-Flag produce a energetic set that picks out favourable highlights from their 20 year career. Songs such as 'Fuck Police Brutality', 'Die for the Government' and 'Power to the Peaceful' demand plenty of crowd involvement, and thankfully the mass crowd responded with the end result being one of the best sets of the day. Whilst the band's posi-politcal talk can come off as too repetitive at times, Anti-Flag's punk rock core is enough to keep you interested from start to finish (3.5/5)
One of the most surprising pulls of the first day of Sonisphere was Bam Margera's Fuckface Unstoppable. Playing to a packed out Bohemia tent, the pro-skateboarder and Jackass star joined by brother Jess and other friends to rip their way through rawkus covers of Turbonegro and GG Allin numbers. Whilst musically they're messy, they have an energy that kept the crowd's curious attention throughout (2.5/5)
Later on, Margera's close friends HIM took to the Apollo stage to provide a patchy "best of" set. Early tracks such as 'Buried Alive By Love', 'Rip Out the Wings of a Butterfly' and 'Right Here in My Arms' struggle to invigorate the mass crowd as frontman Ville Valo struggled to reach high, soaring notes. Despite their strong following, today isn't HIM's day as their set lacked energy and passion. (2/5)
Thankfully, energy isn't something rap-rock legends Limp Bizkit aren't missing. Kicking off with a cameo appearance from The Lounge Kittens, Fred Durst and company jump straight into 'Rollin" and don't let up for an hour. Limp Bizkit know their place at a festival like Sonisphere; play the hits and get the crowd moving. With songs like 'My Generation', "Nookie' and 'Break Stuff', they definitely have the numbers to do just that. Add some amusing onstage talk from Durst and random snippets of Michael Jackson and hip-hop tracks from DJ Franco, and you're left with a nostalgic yet very pleasing set. (4/5)
For Friday night headliners The Prodigy, playing a metal festival is something they've done before yet you can't help but feel they're still a somewhat strange choice against the other weekend headliners. Nevertheless, the mix of dance, electro and hard rock draws a dedicated crowd. Well-known tracks 'Breathe' and 'Omen' are aired early on as MC Maxim Reality shows an unrelentless energy yet once the band's set settles in, the lack of familiarity for casual fans makes the group's set come off as inept and, to an extent, repetitive. (2.5/5)
Despite the headliners finishing off on the main stage, Sonisphere doesn't stop there as 65daysofstatic open up the late night entertainment portion in the Bohemia tent. The Sheffield instrumentalists showcase a compelling, powerful set that leaves attendees, including us, stunned and wanting more. Tracks like 'Heat Death Infinity Splitter' and 'Prisms' are overwhelming and thorough. (4/5)
Saturday July 5th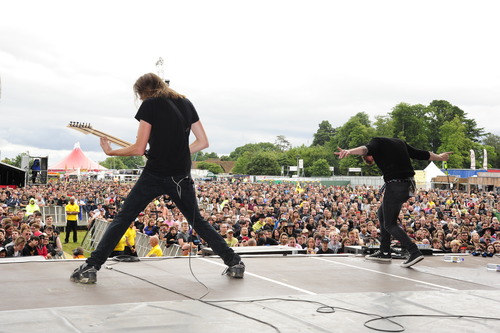 Despite it being early for some and the rain somewhat dampening the start to the day, Tesseract kick off day 2 of Sonisphere on a high. With vocalist Dan Tompkins back in the band, his first show back with the prog-metallers proved to be impressive. Playing cuts from the band's only Tompkins-led to date, 2011's 'One', Tompkins fit right back at home as his voice soared alongside the band's ambient prog-metal sound. (4/5)
A short walk down the hill over at Saturn stage, we're treated to Perth pirate metal band Alestorm. Their fun set was full of songs about drinking and pillaging, whilst frontman Christopher Bowes amused the crowd with witty pirate banter and keytar in hand. Like a small selection of bands playing today, Alestorm are the perfect fit for a festival like Sonisphere; good, harmless fun. (3.5/5)
Next up was one of the most anticipated sets of the weekend – the UK debut of Japanese YouTube sensations BabyMetal. With a theatrical opening video, the so-called 'Metal Resistance' impressed the sceptics. The trio, backed by "Full Metal Band", showcased their tightly choreographed routine to perfection, and partly thanks to the aforementioned backing band, they provided some of the heaviest chugging riffs, and impressive guitar solos you'd hear all weekend. They certainly won over a curious crowd, us included. However like most viral sensations, BabyMetal clearly only have a short lifespan. Sure they're entertaining but sooner rather than later, people will move on to something else. Don't expect to see the trio on a bigger stage anytime soon. (3/5)
At this point we caught Chas and Dave, and unfortunately they stick out like a sore thumb at Sonisphere. Sure their brand of cheesy, London pub pop-rock is fun at first, but this isn't the right crowd of festival for them. (1/5)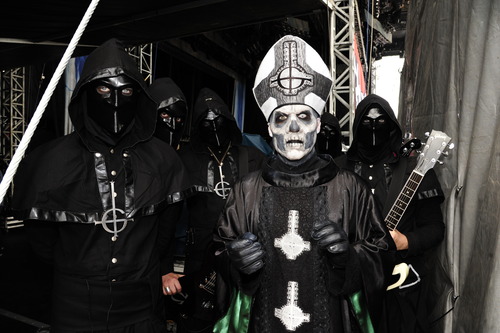 Thankfully Ghost somewhat picks things up again as the Swedish band showcased their brand of theatrical and Satanic heavy metal. Although songs like 'Year Zero' and 'Ritual' win over some sections of the crowd, others fail to see pass the demonic appearance of Papa Emeritus II and The Nameless Ghouls. Ultimately Ghost are one of the mid-afternoon highlights for us, as they have the musicianship and songs to be more than just another band in anonymous make-up. (3.5/5)
American rock "supergroup" The Winery Dogs have a surprising high billing on the Saturn stage, and whilst the band's style of bluesy, classic hard rock might win some older members of today's crowd, for us they come off as uninteresting. Despite their tight performance, their set lacked energy and vigour, and dragged more than it should. (0.5/5)
After a slight break, we caught the end of Frank Turner (and The Sleeping Souls) performance on the Apollo stage. Whilst some may have questioned why Turner was playing a metal festival, he certainly has the credentials and, most importantly, the songs to win over any crowd. Yet it's impossible (and unfortunate) to state how well Turner did today having seen just a couple of final songs. Yet we're sure he did a killer job and stepped up to the plate. (2.5/5)
Having missed out on playing 2 years ago, Hundred Reasons brilliantly played their way through 'Ideas Above Our Station'  for one last time in full. With a strong sense of nostalgia in the crowd, the Hampshire band took us back to 2002 and played the entire record from start to finish. Even though we may never see them again, Hundred Reasons definitely went out on a high and provided one of the highlights of the weekend. (5/5)
Before Deftones took to the Apollo Stage, Sonisphere provided a poignant and spectacular air display from The Great War Display Team. Their compelling "dogfight" commemorated the 100th anniversary of The Great War and was a unique moment of the weekend.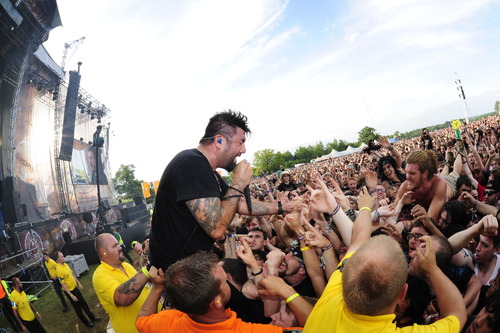 Back to the music and Deftones made a fantastic return to the UK as they performed a career-spanning 14 song set. From the opening 'Diamond Eyes' to the closing '7 Words', the charismatic Chino Moreno and company provided us with one of the best sets of the weekend that drew one of the biggest crowds. Highlights included 'Swerve City', 'Digital Bath' and 'Headup' and its clear the Sacramento, California band thrived off the crowd's feelgood energy. Let's hope it's not too long before we see Deftones on these shores again. (4.5/5)
The almighty Slayer closed the Saturn stage and you know what to expect from the thrash metal legends; pummelling drums, and insane spiralling riffs played at a 1000MPH. Even though the current lineup is only half of the classic quartet, Tom Araya and Kerry King still delivered as they destroyed their way through tracks like 'Hate Worldwide', 'War Ensemble' and 'Seasons in the Abyss'. However for casual fans (like us), the pay off comes in the form of 'Raining Blood' and 'Angel of Death' – two all time thrash metal classics that deserve the devil horns and respect, any time, any place. Despite that, the bulk of unfamiliarity hinders today's set, and unless you're a Slayer fan, one song somewhat rolls into another without notice. (3/5)
After 3 years of touring the globe, metal legends Iron Maiden returned once again to Knebworth to finish off their 'Maiden England' tour. Tonight is a fine example of just why Maiden still have one of the biggest fan bases in the world as their set is rammed full of classic Maiden.
From early set favourites such as 'Can I Play with Madness', '2 Minutes to Midnight', and 'The Trooper' before delivering the legendary numbers; 'The Number of the Beast' and 'Run to the Hills'. Even though 'Phantom of the Opera' suffered from a slight pyro hiccup, the show went on as normal as the Bruce Dickinson and company played on.
The encore trio of 'Aces High', the soaring 'The Evil That Men Do' and the blistering 'Sanctuary' bought a superb closing to Maiden's tour and to Saturday at Sonisphere. (5/5)
Day 2 of Sonisphere had its highs and lows but ultimately we left walking away happy, and we're sure thousands of others did too.
Sunday July 6th
As we crawled out of our tent for the third and final day, Gojira are at hand to provide us with an almighty wake up call, albeit slightly later than planned. Nevertheless, the French metallers delivered an onslaught of technical thrash metal with highlights being 'The Heaviest Matter of the Universe' and the brutal concluding 'Vacuity'. Sure they might not be for everyone, but Gojira definitely won the award for heaviest band of the weekend. (3/5)
Over at the Satellite stage, emerging UK rap-rockers The One Hundred make their festival debut to a strong crowd and a great response. Recent singles 'Kingsmen' and 'Breed' are filled with adrenaline as the quartet's sound mixes up rock, metal, electro and rap into one energetic ball. Whilst the band's final song, 'Downfall', capped off a good set that left a strong impression for those in attendance. (3.5/5)
As we return back outside, we're welcomed by Aussie prog rockers Karnivool with a highly noticeable set that pulled in a large crowd on the Saturn stage. With a set that highlighted favourites from last years 'Asymmetry' LP and 2009's 'Sound Awake', Ian Kenny produced one of the best vocal performances of the weekend even if the band's final song, 'New Day', was drowned out by Airbourne kicking off on the opposite Apollo stage. Nevertheless Karnivool soldered on and provided an impressionable set. (3.5/5)
As we mentioned, Airbourne started off prematurely due to a slight scheduling issue, yet the feel good Aussie hard rockers have a dedicated following and for good reason. Their style could be summed up as "AC/DC meets party hard rock". Songs like 'Black Dog Barking' and 'Live It Up' are made for festivals of this nature, and you can't help but admire the showmanship of frontman Joel O'Keeffe. With his soaring vocals, and feelgood rock 'n' roll stage presence, O'Keeffe is your stereotypical rock frontman turned up to 11 (see 'Spinal Tap'). Add a poignant dedication to Rik Mayall and a brief daring moment that saw the singer climb the stage structure with guitar in hand, and you're left with a fun-filled showing. (4/5)
As the boisterous sun made its return, ska punk legends Reel Big Fish provided the soundtrack to match the weather. However, a power cut during fan favourite 'Where Have You Been' spoils the band's brass-laden, lively set. Eventually they soon win over the crowd again by performing 5 different incarnations of 'S.R. (Suburban Rhythm)'. From reggae to square dance to disco to death metal, the goofy punks show their versatility in a charming, admirable manner. And of course the band's classic take of 'Take On Me' rounds off their enjoyable set. (2.5/5)
After taking a moment to catch our breath and grabbing a bite to eat, Mastodon follow up landing at number 10 on the UK album chart by returning to the UK for an profound set on Apollo stage. With a career-spanning set, the Atlanta four-piece waste no time as they deliver monstrous numbers such as 'Black Tongue' and 'High Road'. Their structure is broad yet infectious leading to a powerful set that displayed why Mastodon are one of the most revered heavy rock bands right now. (4.5/5)
For those who don't know, Dream Theater are prog metal masters and over 60 minutes they show just why. Their 9 song set was pulled off with ultimate precision from start to finish. With the technical prowess of guitarist John Petrucci and rumbling basslines from John Myung, they combine with the engaging vocals of James LaBrie, momentous drum work from Mike Mangini and Jordan Rudess sprawling keys to bring about an astonishing set. One that is performed with class and grace. (4/5)
For some (including us) the 3 day wait was finally over as Metallica bought their "By Request" show to the UK, and having nailed Glastonbury last weekend, Metallica showed no sign of slowing down tonight. From the opening, pounding moments of 'Battery' all the way through to 'Seek and Destroy', the four-piece showed just why they are the pioneers of metal.
The mass crowd demanded the "fan favourites" and that's what they got in abundance; 'Master of Puppets', 'Fuel', 'Sad But True' and much more were displayed, and were combined with a speculator stage show incorporating visually stunning lasers and video screens.
Highlights such as the haunting intro to 'One', the striking 'Nothing Else Matters' and the over-powering 'Enter Sandman', receive some of the biggest reactions of the night. Whilst the band's UK debut of new song, 'Lords of Summer', fits right at home amongst the set and gets strong response from the thousands in attendance.
Ending with the pummelling 'Seek and Destroy', Misters Hatfield, Ulrich, Hammett and Trujillo, bought the curtain down on Sonisphere 2014 on an incredible high. An accomplished set that did not disappoint. (5/5)
You may not want to call it a comeback, but with it's fair share of incredible highs and a few forgettable lows, Sonisphere delivered a remarkable weekend that showcased some of the best and biggest hard rock acts on the planet. Roll on 2015!
4/5
Sonisphere links: Website|Facebook|Twitter|Instagram|Tumblr
View more of Already Heard's Sonisphere 2014 coverage right here.
Words by Sean Reid (@SeanReid86). Photos courtesy of PG Brunelli.