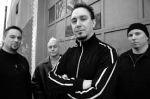 Post Reading and Leeds Festival always sees a flux of the bands who attended the festival, to take a chance and play a few intimate shows. Tonight is no exception as a legendary New York hardcore band gets back into familiar and comfortable territory between these four walls.
First up is North Western hardcore mob Stuck In A Rut, who act as a perfect remedy for warming the ears with shredding noise. The band are tenacious in their delivery, and don't slow down the tempo. The band takes cues straight from the likes of Discharge and Negative Approach. Despite a somewhat lack of energy on the stage, it is the boot stomping noise that holds their set aloft. (3.5/5)
The pace picks up once The River Card enters the fray. The melodic hardcore quintet has beefed up their sound tenfold and is a scorching force to be reckoned with. Lead vocalist Chris Smith shreds his vocals and whips the crowd from still embers into wind-milling flames. There are the tad hardcore clichés but the band have an undeniable energy which grows on you. Throwing in a cover of classic mosh anthem 'Don't Tread on Me' by Cro-Mags, the conclusion of The River Card is that they are a fun and passionate band to watch and get your teeth into. (4/5)
Durham's Voorhees are underrated in regards to their status in the UK hardcore scene, if not the scene the world over. Since reforming, the 90s legends have been playing several shows, most of which have seen them display a youthful violent vigour in their manner. Ian Leck leads this current incarnation into the crowd and decimates them with a volatile wrecking ball. Leck's raw vocals compliment well with the metallic noise that supports him. Throughout this period, the pit widens, words are yelled back to the stage and a riotous mosh ensues. Besides their own material, Voorhees play deliciously destructive covers of 'Tied Down' by Negative Approach and Black Flag's 'Gimme Gimme Gimme' with a rapturous response. (4/5)
After enduring an hour surrounded in patience and anticipation, the legendary quartet that this audience has been waiting for finally arrive. Accepting the open invitation from their fans, Sick of It All deliver a roundhouse kick with positive vibes via 'Good Lookin' Out'. From then the room is in a constant flux of stage dives, circle pits, moshing and sing alongs; everything you'd expect from a solid hardcore punk set. A combination of two things makes this set work so well: the tight, energetic fury positive energy from the band, and the fact that every song on their setlist is an anthem. 'Step Down', 'Death Or Jail', 'District', and 'Just Look Around' are a few examples of the band's unchallenged songwriting, cuts of which result in the same consistently brilliant atmosphere. Abounding the stage and leading the charge as always is frontman Lou Koller, whose fiery yells are one of the most iconic in the hardcore punk sound. The presence that he and his band mates have is unquestionably hypnotic as they bring a sense of fun, slaughter and memorability to their set.
Finishing off with classic song 'Scratch The Surface', the band walk out leaving the audience wanting more to satisfy their hardcore craved appetites. Eventually an encore is granted; by request, the band unleash brute force for a minute and a half during 'Built To Last', before sealing off this fantastic period with the community enamoured 'Us Vs. Them'. Sick Of It All rest well and return soon as you're the live spectacle the underground world truly deserves. (4.5/5)
4.5/5
Words by Aaron Lohan (@ooran_loohan)