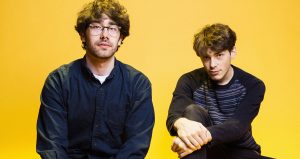 Given that most emo shows in Brighton are usually held at either The Hope & Ruin, Sticky Mike's Frog Bar or The Green Door Store, its a refreshing change of pace to attend the basement of a cinema/comedy club. It's a very aesthetically pleasing venue for both Field Medic and Remo Drive to make their UK tour debuts. Despite being on different labels and sonically far apart from each other, they share very similar fanbases, and for many attending tonight, have been following their music since the very beginning.
Local emo outfit All Better (2.5/5) open up tonight with a barrage of melancholic riffs and insatiable pop hooks. Frontman Nicholas Burdett and guitarist Chris Child's New Found Glory-esque vocal harmonies blissfully accompany one another, whilst the heavier side of their pop-punk influenced rock gets the audience attentively nodding along. A few technical hiccups here and there became a slight distraction, but overall they nicely packed out the floor space.
Describing himself as the "folk in an emo sandwich", Field Medic (4.5/5) emerges next, armed with a new found love for Brighton, an acoustic guitar, and a retro boombox that plays simplistic drum loops. Whilst romantic songs such as 'UUU' and 'OTL' make us feel comforted and warm inside,  we are treated to a meta new song.  Kevin Patrick Sullivan vents his frustrations of being on the road, playing to audiences that talk over his set. Thankfully the audience is respectful and charmed by his wholesome demeanor.
A sizeable push pit erupts as Remo Drive (4/5) take to the stage, they launch into their fast, dirty power pop sound. Guitarist Erik Paulson is grinning all the way as the audience latch on to his every word for breakthrough hits such as 'Eat Shit' and 'Art School'. Whilst the Minnesota emo revivalists are now predominately a sibling two-piece, Sam Becht, formally of JANK and Coping Skills, impeccable fills in on drums, adding a new level of technical finesse to their winning formula.
Bassist Steven Paulson does most of the talking in between guitar tunings, briefly stating that they are releasing a new record next year, as they showcase a more introspective approach to the loud, bombastic nature of their music. Their 2018 Epitaph Records debut, 'Pop Music', manages to steal the spotlight this evening, smattering with relatably angsty quips such as "My posters, my CD's, are breaking my heart, when they shouldn't be.'" It's a wonderful way to vent the frustrations of your heroes letting you down with an audience who are just as heartbroken.
By the time 'Yr Killing Me' comes around, the room erupts for one last chance to dance as they plunge into its caustic crescendo.  The Paulson brothers joyfully feed off the wild reception, capturing perfectly that tonight has been worth the wait for Remo Drive's official introduction across the pond.
4/5
Words by Ashwin Bhandari (@GIVEUPOX17)