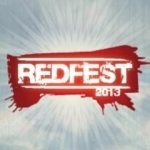 Now in its sixth year, Redfest is back to showcase some of the best upcoming and local bands the UK has to offer. We headed down to camp outside the Hype Clothing stage for the weekend to see what was going down.
Local openers Of Fire and Fate kick things off, displaying their amateurish sound to a mediocre response. (2/5) Followed by Southampton three piece Run From Robots, who really get things started despite hideous feedback from their microphone putting a dampener on their set.  (3/5)
Hardcore outfit Continents deliver the first perfect set of the day, heavy yet melodic, their energy proves infectious – spawning the first mosh pits of the day. (5/5) Palm Reader continues the pace, with a furiously energetic set, intertwined with some short, sharp crowd banter. The lukewarm crowd response does nothing to dissuade their enthusiasm and they're rewarded with a mass sing-along for their last track, even getting an audience member to play guitar for them (4/5).  Golden boys Gnarwolves, whose skate punk sound is suited perfectly to a festival setting are blighted with technical difficulties, their mic even cuts completely out during 'Melody Has Big Plans'. Disappointingly, Gnarwolves deliver a fairly bland set from one of the most promising live bands at the moment (3/5).
Despite their best efforts, Idiom deliver a decidedly average set which compared to the rest of the days line up, falls a little flat. (2/5) Pulling the largest crowd of the day, Subsource easily won over the crowd with their blend of electronic and metal. One of the strongest acts so far, their set even threw in a dubstep remix of Slipknot – something which should never work but somehow did. (4/5) Demoraliser kept the energy going with an intense set which only let up for vocalist James Dexter to bark out instructions "circle pit", "two step" etc. The crowd were happy to oblige, making this one of the most fun acts of the day so far. (5/5) The strongest band Redfest have offered up so far, Heart In Hand prove that they deserve the acclaim piled onto them, delivering a heartfelt set which keeps the sun drunk (and bar drunk) crowd on their feet for the entire duration. Despite knocking back a fair few vodkas during their set,  singer Charlie still manages to showcase his impressive vocal skills as well as encouraging one of the biggest circle pits of the evening (5/5).
As the sun sets and the day's sunburn starts to develop, Hacktivist take to the stage. Opening with Kelis' 'I Hate You So Much Right Now', they're ready to bring their fusion of grime, dubstep and metalcore. Hacktivist then proceed to throw any musical element into the mix in the hope that something gels. There are clean vocals, heavy vocals, grime raps mixed with beatdowns, instrumentals and rally cries of  "fuck the system". It's just too much uncorrelated stuff, and whilst their positive message may be a good thing, their set is virtually impossible to listen to, meaning any positivity they bring is lost in translation. (1/5)
Final act Bury Tomorrow may have only recently begun to draw headlining sets but after tonight's performance, nobody can deny that they deserve their place. Tearing through their set list, their dual vocalists balance each other perfectly. While most tracks were from latest album 'Union of Crowns', older fans were not disappointed as less recent tracks were aired out too. Bury Tomorrow clearly love what they do and their infectious enthusiasm ends the first day of Redfest on a high. (4/5)
Words by Jay Sullivan