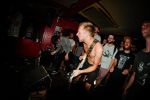 A show is best when everybody means it. Cram those people into a tiny room with a bunch of excited punters for a few hours and you're on a winner. Tonight features twelve people playing in four bands from three countries. All stuffed into Nottingham's finest little venue. Opening is Papermoons, currently touring with (and being half of) Football, etc. who will play later. The Texan two-piece plays a gorgeous kind of emo somewhere between American Football and Death Cab For Cutie. Warming the audience as enough people cram inside for the venue to declare the show a sell out.
Coming both out The Netherlands and, for those not already in the know, out of the blue, is Break Character. Following the sweetness of Papermoons with a half hour blast of emotional hardcore magnificence. Being fronted by the universally agreed upon world's coolest dude, Johan van Hattum, only furthers their cause. There's nothing not to love about a band giving it their all for the love of it. Heart-on-sleeve honesty and humbled to be so well received so far from home. Break Character prove themselves a wonderful addition to a bill that they might otherwise seem out of place on.
Football, etc. are the de facto 'headliners' of a show that definitely doesn't have one. Their set is only disappointing in that I could watch them play for hours and they don't. It's clear from the beginning that this is a band that people have braved the Sunday night cold for. Clearer still that they're happy to have done so. Thus a perfect harmony is created. The crowd feeding off the band, who feed off the crowd, until everyone reaches a point of musical enlightenment, sighs, smiles and spends all their money at the merch table.
Once everyone has caught their breath, Plaids play. Having decided to go on last so that no one misses Football, etc. to catch their ride home. As far as I can tell though, no one leaves. Anyone who has managed to sneak out misses an absolute blinder as the Nottingham foursome tear through a frantic set. The mic is passed around, Plaids prove that they can air punch like no one's business; sweat pours, the NHS is praised, Tories bashed, punk rock played, and fun had by all.
Some nights are good and some nights border on perfect. As everyone drags their boiling bodies from the room the talk amongst the leaving implies that this night was the latter. This has been the best kind of show.
5/5
Words by Thomas Knott (@thislifeishuge)