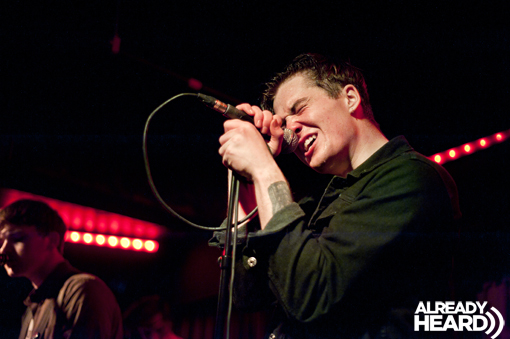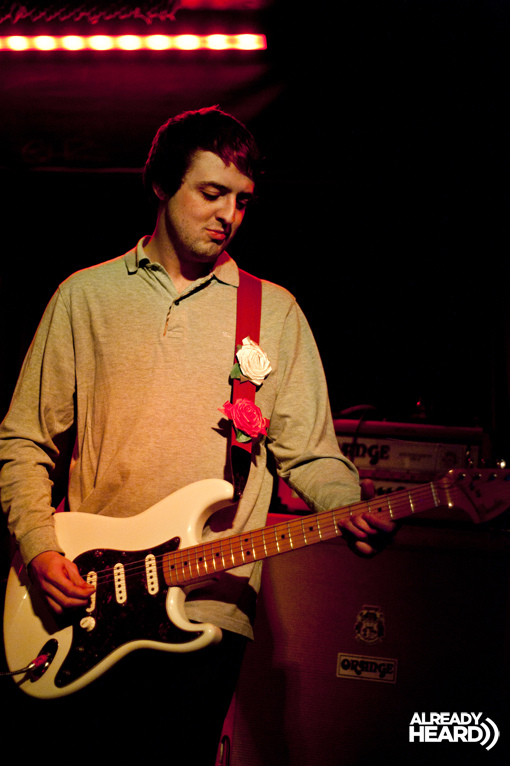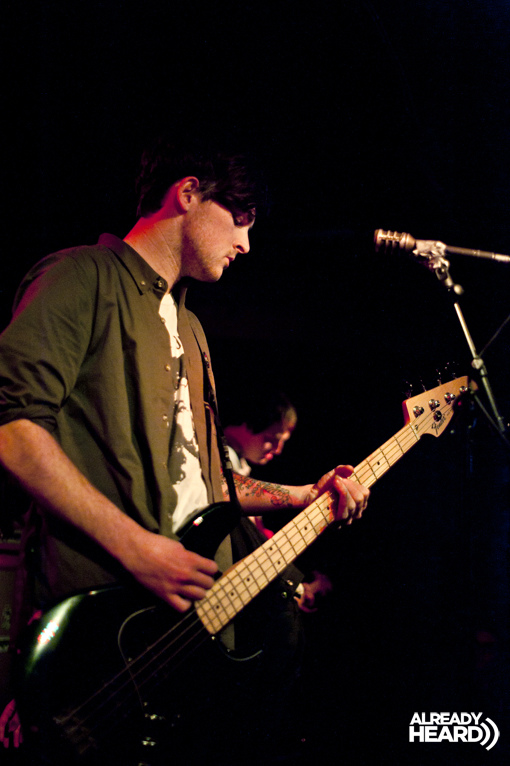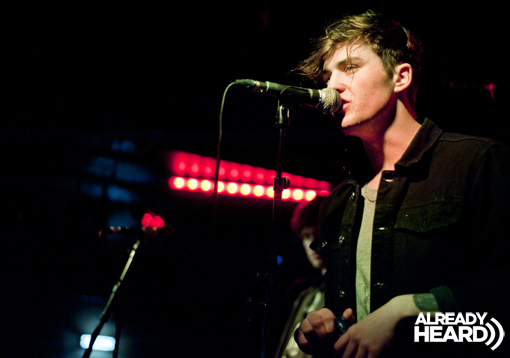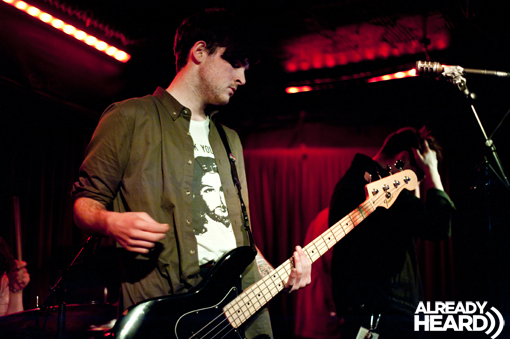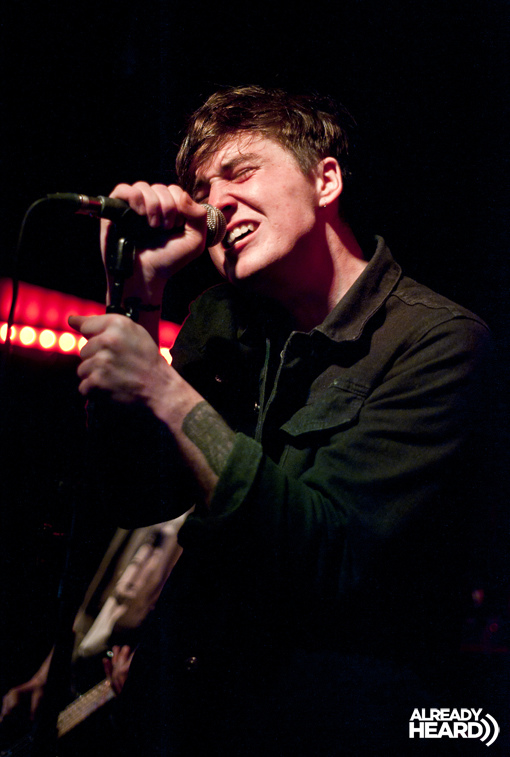 View on Flickr. Photos by Sarah Louise Bennett.
It was the previous night that I realised of the extreme amount of bands performing on this show, and so checking the stage times was the wisest of all decisions. Learning it began at 4pm, instead of the usual 6pm, was a vital piece of information I'm glad I acquired on time. On the day of the show we head down early to scope out the situation. 3.45pm and barely anybody about, by the time Chain Of Flowers took the stage at 4pm, it was made pretty obvious that the show wouldn't fill entirely till the evening. Saying this however, for the first band on the bill and so early on in the day, a decent sized crowd appeared as if from nowhere to catch them.
I knew of Chain Of Flowers previous to this tour, only by name. The name kind of gives away the kind of music they'd be playing, or maybe I have some kind of cool musical intuition, either way I was highly impressed with them and their performance. Playing a kind of grunge infused lo-fi punk, COF performed like it was the biggest (and it possibly was given the bands on the bill) show of their lives. This isn't a criticism, I was enthused to see their eagerness given the time of day and playing to a crowd that for the most part, probably had no idea who they were. This didn't diffuse their performance in anyway and I was pleased to see a band doing this kind of thing well, and entirely throwing themselves into the performance. (3.5/5)
Now, Luther, ended up being my absolute favourite band of the day. If you're a part of the UK DIY punk scene then you've undoubtedly heard their name banded about. For some reason though, I hadn't taken the time (until on the day) to actually listen to them. 'The Concrete Sound' is the first track I heard, and the one that has resonated since Saturday with me. It's a lovely bit of catchy accessible punk that is an absolute stand out track. Luther are one of those incredible bands that sound the same recorded and live, and I love that. The whole set was welcomed by the crowd, a lot of people seemingly there alone for them, and I genuinely wish that I'd taken the time prior to the show to listen to them properly. I hate when that happens. (4.5/5)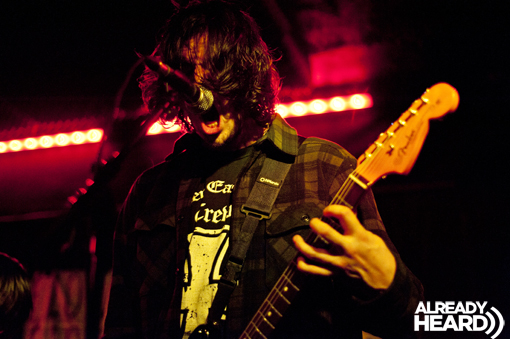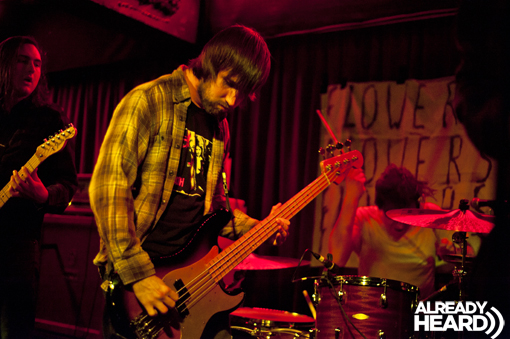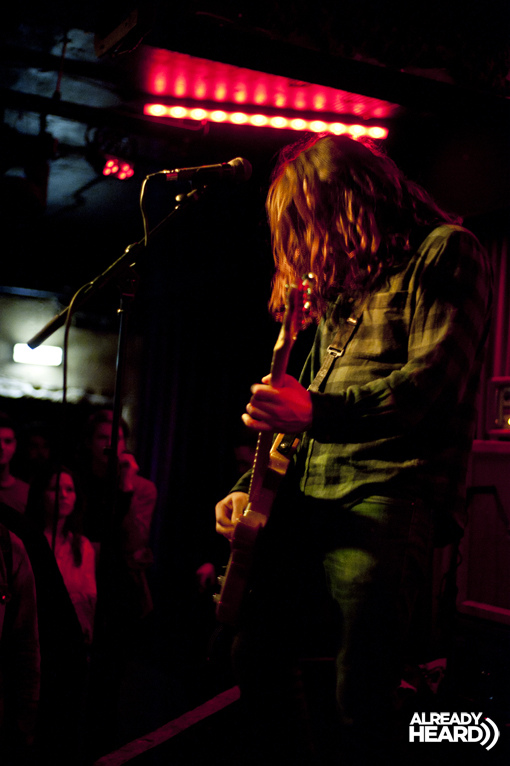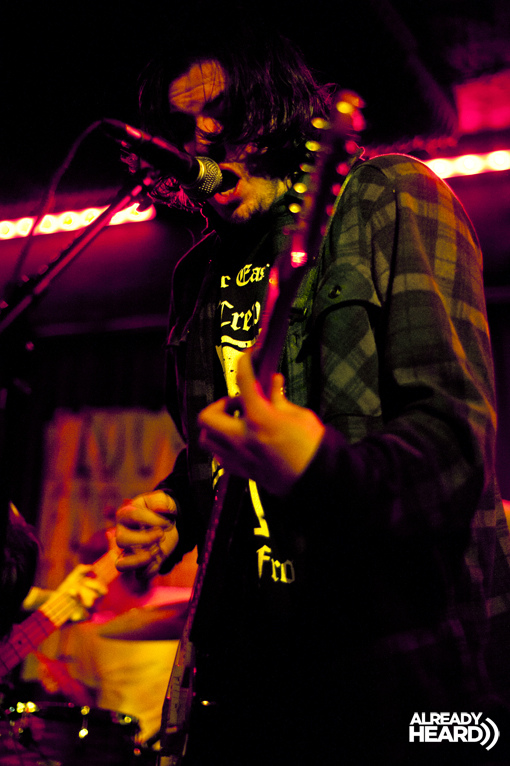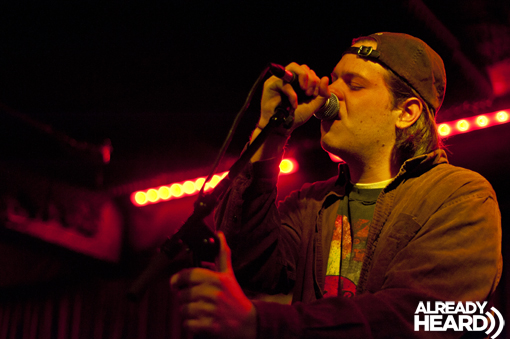 View on Flickr. Photos by Sarah Louise Bennett.
Daylight were probably the most surprising band of the day. Having missed them on their previous UK dates I was looking forward to catching them this time round. I'm a fan of them on record, but for some reason believed that I wouldn't enjoy them in a live atmosphere. I was proved wrong. Playing a kind of 90's emo come grunge revival, it's obvious that the bands involved in this tour were picked for their throwback styles. (3.5/5)
Cheap Girls are a weird one for me personally. Their music is nothing short of accessible. A punk infused laid back style that seems widely acknowledged with positive response. However, I can't seem to get into it. I find them, to put it simply, boring. Their music is played perfectly well, the songs are well structured and in a live atmosphere they thrive more so than on record. I guess it's just one of those bands that hasn't yet, and maybe never will, click with me. (3/5)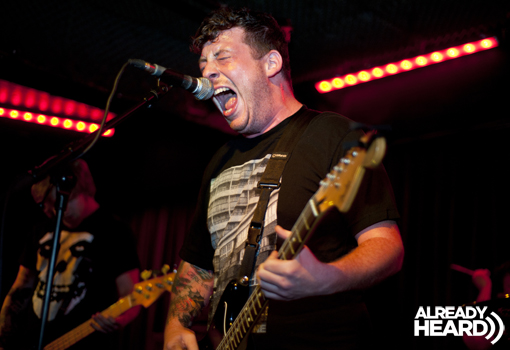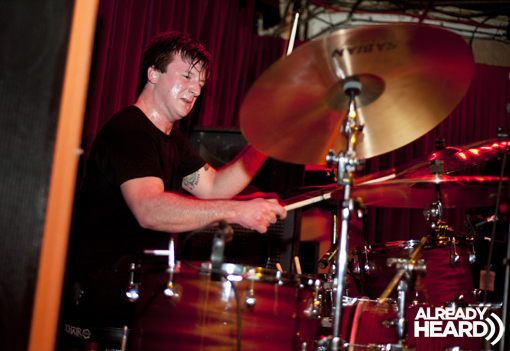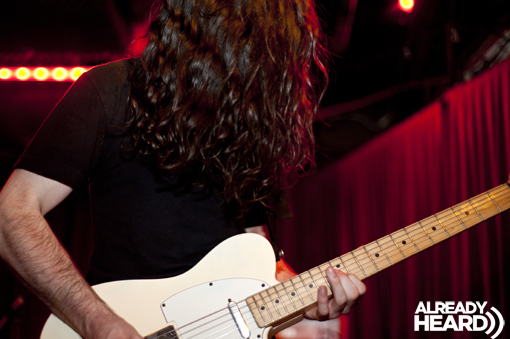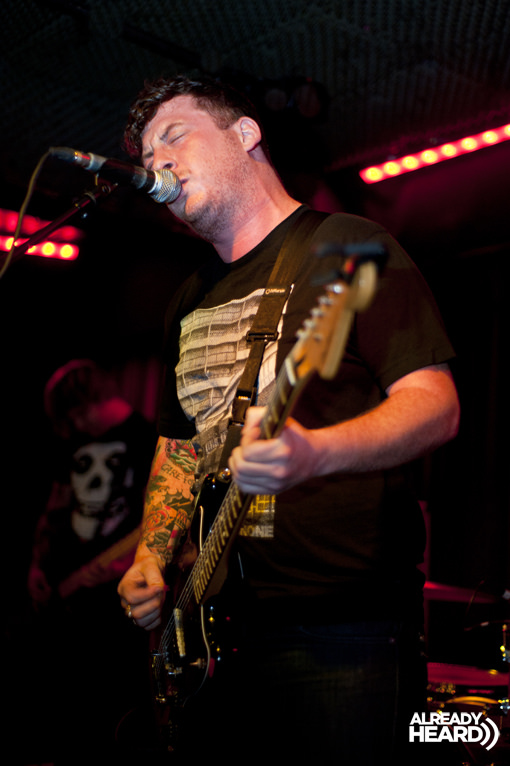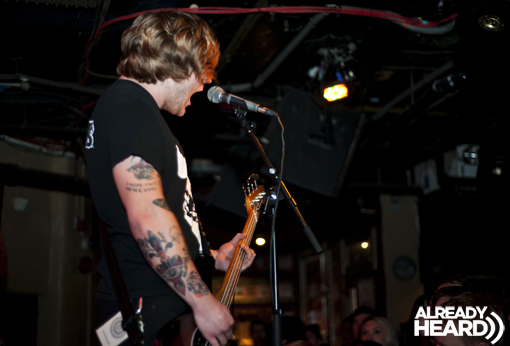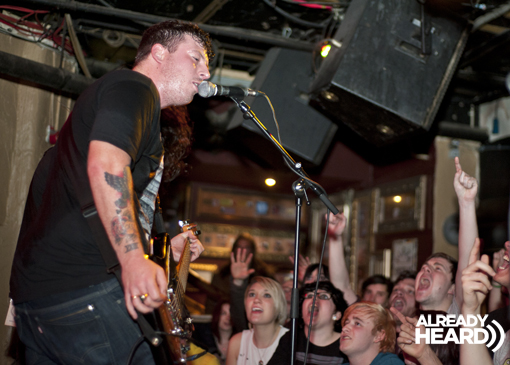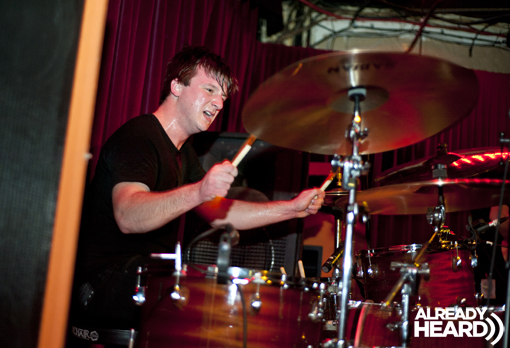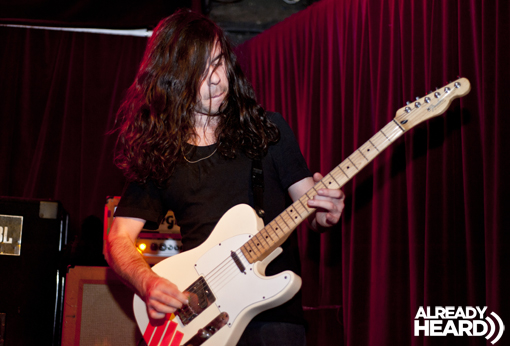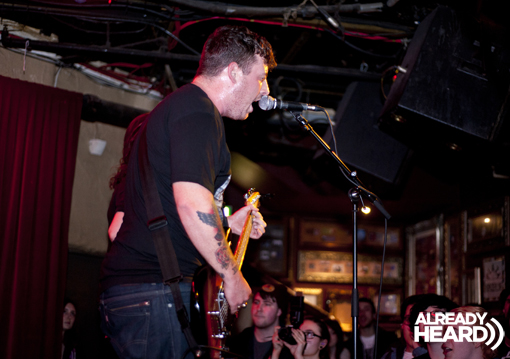 View on Flickr. Photos by Sarah Louise Bennett.
The final band of this tour, Make Do And Mend, are again another solid act who play passionate melodic punk. It's obvious that with this being two tours combined, there are going to be people there alone for each of the "headline" bands, and MDAM get the best reception of all the bands thus far. With crowd sing-a-longs and people having a genuinely good time, there's not really anything bad I can say about this band. I just wish that again, previous to this show I'd given them a real listen and could get more involved in the thriving crowd. (3/5)
The main band of the night, punk rock legends, The Bouncing Souls. Having seen them previously a fair amount of times having been on the UK dates of their previous tour with The Menzingers, I knew what I was in for, and what everyone else was about to witness. One of the more solid older acts still going, The Bouncing Souls prove that being older doesn't make you irrelevant. Singing about positivity, and getting what seems like the whole crowd involved, previous bands on the bill included, they proceed to prove their hierarchy in the punk rock scene. My only problem with their entire set is that they didn't end on 'True Believers'. Their most well known track, in my opinion anyways, should've ended the set perfectly. Instead they continued to play and it lost a little momentum from myself and it seemed the entire crowd. (4/5)
Overall, there wasn't one band on this show who disappointed. When two tours like this combine and work, it's a great accomplishment to all involved.
4/5
Words by Rosie Kerr. Photos by Sarah Louise Bennett and shot at The Borderline, London.