After two days of blistering sun and outstanding music, the English portion of the Slam Dunk Festival comes to a close with Wolverhampton hosting the first ever Slam Dunk Midlands event. Although in it's first year, organisers already have the layout planned out well with little to no confusion for festival-goers. With a line-up filled with so much great music and variety, we were spoilt for choice.
Our day begins in the main Civic Hall where Arizona pop-rockers The Summer Set open the Jager stage to a packed out crowd. Whilst the bands style is somewhat generic and predictable, their brand of feel-good pop-rock pleases to young crowd and showcases the bands recent 'Legendary' album in a strong light. (2.5/5) (SR)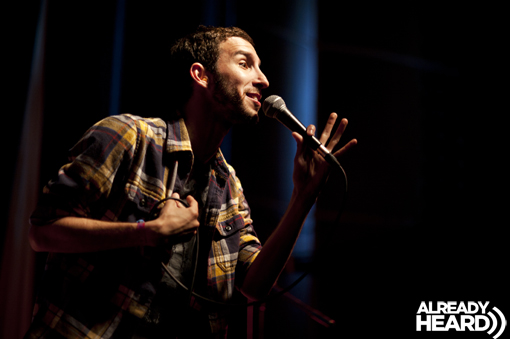 View on Flickr. Photos by Sarah Louise Bennett.
Down at the Macbeth stage, Transit pull off a more impressive performance then their set at Slam Dunk North with an heartfelt and energetic show, that neatly and concisely picks out the best parts of their discography. Unlike Saturday's performance, the quintet are more sturdy and engaging this time round and leave a better impression. (3.5/5) (SR)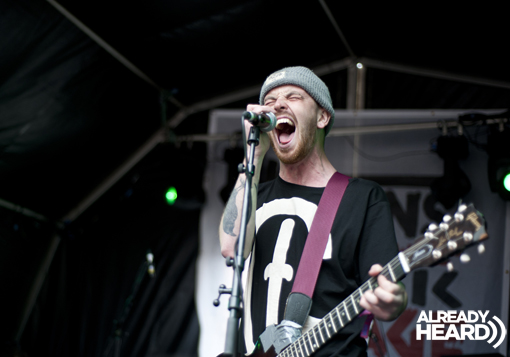 View on Flickr. Photos by Sarah Louise Bennett.
It's 2:15 in the afternoon on the Vans stage and everyone's at the barrier screaming along. The entire crowd is on its feet, save for those who are surfing atop everyone else and Gnarwolves are absolutely slaying on stage. Playing a perfect mixture of songs from 'Fun Club' and 'Cru' as well as new tracks 'Limerence' and 'Tongue Surfer' – two songs to which everyone already knows the words – the Brighton trio set the day going in just the right way. The first band of any festival might be forgiven a little difficulty in getting things going but there's no struggle here. As bassist Charlie rolls headfirst into the crowd at the end of 'Coffee' no one in the vicinity is anything less than psyched for the rest of the day. (5/5) (TK)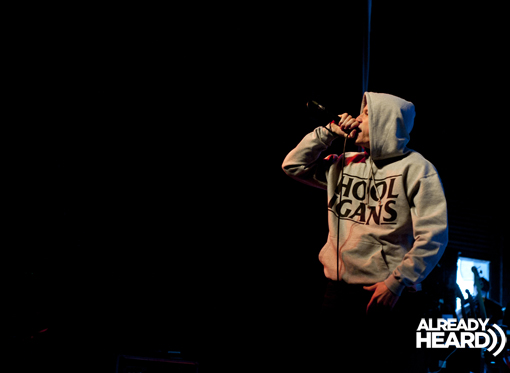 View on Flickr. Photos by Sarah Louise Bennett.
The Story So Far's early placement on the bill turned a fair few heads and the stage is crammed to the rafters by the time they arrive. No one is disappointed, the band tear through a set of old and new songs and the crowd is moving from the very first note of opener 'Roam.' The band is energized and the crowd feed off of their energy before sending it right back. Everything gets hotter and more intense throughout the bands 35-minute set, 'Mt. Diablo' has arms and people in the air and when 'Quicksand' drops the entire room is in a frenzy. All the wonder about the early set, despite the brilliance of the bands that followed, is certainly justified by the performance. The Story So Far storm through the hits, if that's what we're calling them already, and they're perfect. New songs 'Right Here,' 'All Wrong' and 'Stifled' fit perfectly amongst the songs that everyone's been singing for the last two years and the sweat that hangs in the air as the room empties is a somewhat disgusting testament to the ferocity that The Story So Far have produced. (5/5) (TK)
Back in the main hall, rising UK rockers Mallory Knox make themselves known with a powerful and fun set that once again backs up any hype they have. Opening with 'Wake Up,' the Cambridge group have the Wolverhampton crowd sing100%ing in unison and vocalist Mikey Chapman has them in the palm of his hand from start to finish. (4/5) (SR)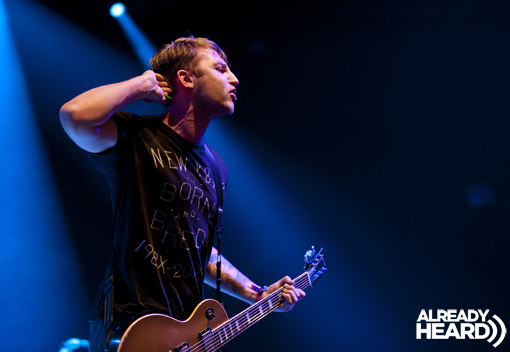 View on Flickr. Photos by Sarah Louise Bennett.
Next up is We Are The Ocean and having popped to and from Nothern Ireland for BBC Radio One's Big Weekend, surprisingly there is no sign of fatigue as Liam Cromby and company make their mark with an impressive set that showcases Cromby's incredible vocal talents. Whilst the bands all-around tightness and a set filled with memorable moments; 'Runaway,' 'Machine,' and 'The Waiting Room' makes them one of the standout bands of the day. (4.5/5) (SR)
This current tour for Streetlight Manifesto is their last in a while, which is such a shame as the band are a tour de force when it comes to a live show. With 7 members on stage all jiving and grooving to their fantastically played skacore sounds it's no surprise that the majority of the crowd join in; shaking every limb, singing along with every lyric and bellowing every brass melody. There's an unfortunately small turnout in comparison to their headline dates around their Slam Dunk appearances which is probably due to the clashes the band have encountered and that their stage is outside (and an outside stage also reasoning to the not as superb sound as their headline dates). However, those in attendance really do appreciate what the band display and Streetlight Manifesto will be sorely missed as many are already praying for a speedy return to our shores. (3.5/5) (MB)
As with many of the poppier rock acts on the main stage, Kids In Glass Houses are absolutely fantastic. The band are constantly giving all they can to the crowd whereas frontman Aled Phillips is the embodiment of giving it all. He's at the top of his game and really does inject their performance with the kind of confidence, charisma and character that a main stage band needs; it's no wonder that the band are playing so high up on many bills these days. Older songs like 'Easy Tiger' and 'Saturday,' through to their latest, disco infused single 'Drive.' The crowd lap it up and so do we. (4/5) (MB)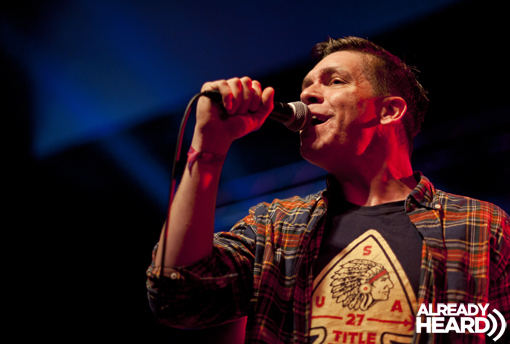 View on Flickr. Photos by Sarah Louise Bennett.
It has been far too long since Fireworks were last in the UK and fortunately they proved worth the wait. Although the sound leaves a fair few members of the audience confused as whoever was at the desk had seemingly dropped a bunch of acid and just mashed all the dials. Despite sounding a little like they're playing in a biscuit tin, Fireworks bring their fantastic blend of pop punk to Slam Dunk. Although the crowd is a little depleted in the wake of the current heavyweights The Story So Far and Man Overboard, the vast majority of those watching know every word and the energy fills the room in a way the sound is failing to. The set is spectacular, opening with 'Arrows' before hitting up friendship anthems 'The Wild Bunch' and 'When We Stand on Each Other We Block Out the Sun,' and then ending on 'Detroit.' The song choices combined with just how much the band themselves are clearly enjoying themselves makes Fireworks' set utterly wonderful. (4/5) (TK)
I was told earlier in the day that over Slam Dunk weekend Polar Bear Club had been, and I quote, "killing it." In the wake of their set, I felt somewhat lied to. Many bands "kill it," many do much more than that, and then there's Polar Bear Club. From the first note of 'Living Saints' until the very end the New York five piece tore the Vans Stage a new one. One of the highlights of the festival for sure, the passion, energy, and outright positivity flying from the stage was awe-inspiring. Vocalist Jimmy Stadt didn't care about the rain and neither did the crowd. Everyone was wet, everyone sang loud until their lungs were empty, and Polar Bear Club showed exactly how a band can give the best performance whilst having the best time. (5/5) (TK)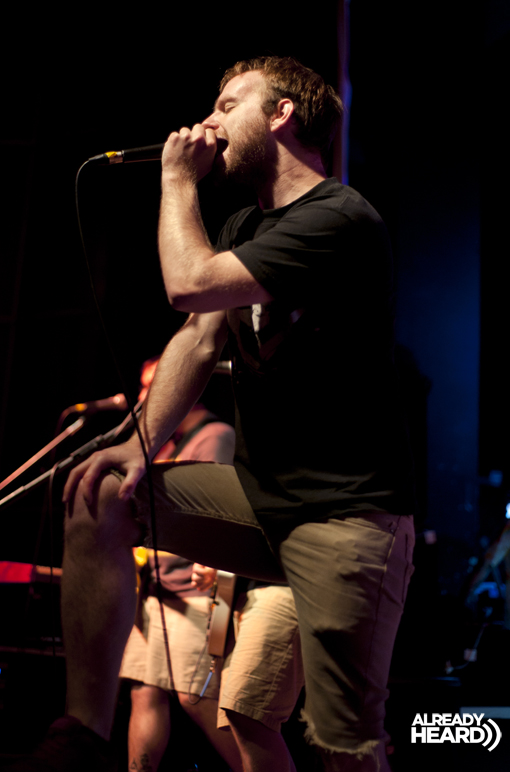 View on Flickr. Photos by Sarah Louise Bennett.
Going into Slam Dunk, The Wonder Years carried plenty of momentum following the release of 'The Greatest Generation' and although some question their lower-than-expected place on Macbeth stage, its no doubt that following this weekend they'll be headlining the whole festival in no time. Kicking off with 'Passing Through a Screen Door,' the large gathering in Wulfrun Hall is suddenly turned into a frenzied ball of energy and flying bodies. With a set packed with fan-favourites from 'Local Man Ruins Everything' to 'Melrose Diner' to 'The Bastards, The Vultures, The Wolves' all the way through to 'All My Friends Are in Bar Bands,' The Wonder Years can do no wrong; even if Dan "Soupy" Campbell is havng throat problems, the Wolverhampton crowd make up for and TWY leave fans wanting more. (5/5) (SR)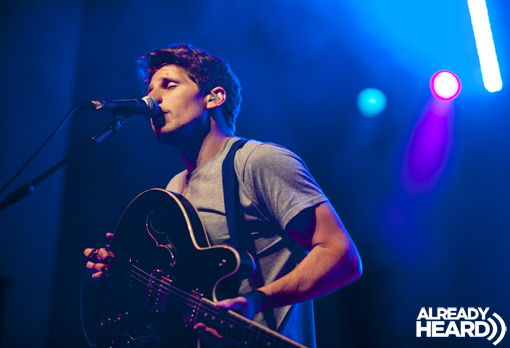 View on Flickr. Photos by Sarah Louise Bennett.
Unfortunately for The Early November the Wulfrun Hall empties out after The Wonder Years. However for those who have stuck around are treated to a powerful and impressive set from the emo/indie rock band. With a mixed set made of new material from last year's 'In Currents' and older songs such as 'Ever So Sweet' and 'Something That Produces Results,' TEN produce a pleasing set that at times is nostalgic yet captivating. Nevertheless the lacklustre crowd lets the bands set down, and you can't help but feel a band making their first UK appearance is six years deserve better. (3/5) (SR)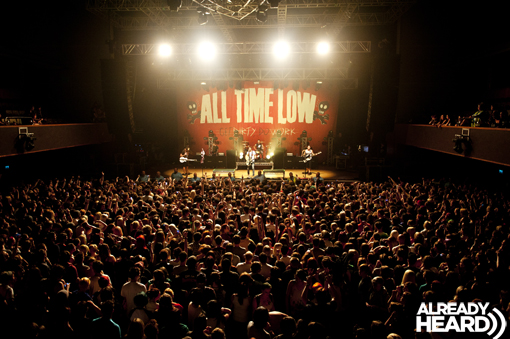 View on Flickr. Photos by Sarah Louise Bennett.
Despite the unnerving and inappropriate stage "banter" between them and their young fanbase, you can't help but applaud All Time Low as they top the bill on the main stage. The Maryland band certainly know how to write a catchy number, and tonight they deliver them in abundance. Kicking off with 'Lost In Stereo' and 'Damned If I Do Ya (Damned If I Don't),' you can't help but get caught up in the bands insatiable upbeat style. Whilst they are, at times, "too pop" for their own good; see the mid-set collection of cuts from the bands recent 'Don't Panic' album, Alex Gaskarth and company evidently deserve the headline slot; a fun, catchy and all-round feel good show. (3.5/5) (SR)
Four Year Strong make their return to the UK and with a point to prove following the unfavourable response to 2011's 'In Some Way, Shape or Form.' Although the bands set heavily relies on older material, you can't help but feel they sound messy and slightly rushed for time. Whilst more familair numbers such as 'Tonight We Feel Alive (On a Saturday)' and 'Prepare to Be Digitally Manipulated' are well received, "rarer" tracks (for example 'Heaven Wasn't Built to Hold Me') fail to get the same response resulting in the bands set getting a mixed reaction. Thankfully the bands set ends on a high with an almighty one-two punch of hardcore pop punk in the form of 'It Must Really Suck to Be Four Year Strong Right Now' and 'Wasting Time (Eternal Summer)' resulting in one mass sing-a-long to close the Macbeth stage. (3.5/5) (SR)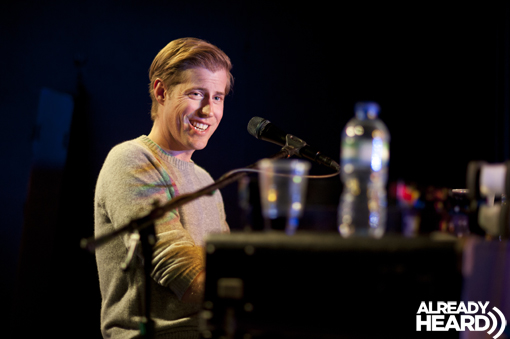 View on Flickr. Photos by Sarah Louise Bennett.
Andrew McMahon has been in two of the best bands America has produced in recent years and tonight he and his piano gave a flawless, heartwarming set of songs by both Something Corporate and Jack's Mannequin, as well as a couple of his solo tracks. After a day of big crowds, barriers, and little intimacy (not a complaint, simply an observation,) Andrew McMahon is the perfect ending. Beginning his set straight from 'soundcheck' ('Rescued' by Jack's Mannequin and 'Cavanaugh Park' by Something Corportate) and talking to the audience as though in a room with his friends, McMahon gives an honest and powerful set, maneuvering between tracks from each of his projects – Something Corporate's 'I Woke Up in a Car' being a personal highlight for me – all the way up until the absolutely majestic 'La La Lie.' The atmosphere in the bar throughout the set is something special to behold in itself, there's not a miserable face in the crowd and as that last chorus rings out ten whole hours after gates opened for the day, Andrew McMahon proves why so many people skipped out on the big headline acts to squeeze into this upstairs bar. (5/5) (TK)
With no hiccups, layout confusion or delays, the first Slam Dunk Midlands is a resounding success that offered more than enough to festival goers and catered plenty of variety. We're already counting down the days to Slam Dunk 2014.
Words by Sean Reid (SR), Mikey Brown (MB) and Tom Knott (TK). Photos by Sarah Louise Bennett.
Our full coverage of Slam Dunk Festival 2013 can be found here.