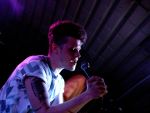 Thursday night's visit of Natives to Leeds' The Cockpit, with Bleach Blood and Arches in tow, was an interesting indicator of the current state of live music in this country. The first being that we seem to be in something of a boom period for an exciting and diverse range of rather excellent emerging bands, as this trio of Transmission Records' finest capably demonstrated. The second, rather more depressing sign, being that the gig going public isn't doing anywhere near enough to support these bands. Ok, it was a fairly drizzly Thursday March night, but that only around thirty to forty people had bothered to show up to see three genuinely bright rock prospects, one touring their freshly released debut album, was disappointing.
First up was Glasgow's Arches, the relative unknowns of the evening. The band put in a super tight performance, and their expansive and emotionally charged slices of Scot rock is a perfect example of why the Glasgow scene has been so red hot over the last few years. Barry Morrell is already an accomplished frontman, mixing a faultless vocal ability with a strangely compelling awkwardly cocksure stage presence. Morell's vocals and some belting lead guitar lines take moments of Arches' set absolutely sky high, anthems of this size definitely deserve to grace rooms considerably larger then room three of The Cockpit. 'Be This Way' (from Arches' most recent EP 'Broken Clocks') in particular stands out, and is the sort of track which should earn the band favourable comparisons to compatriots Biffy Clyro. (4/5)
As soon as Bleach Blood hit the stage, they immediately do their level best to ignite some kind of spark into the pretty lifeless crowd. Former King Blues guitarist Jamie Jazz seems like a man released in his new found role as a frontman, throwing himself about the stage with joyful abandon and exuding irrepressible levels of energy and a quirky charm. Though not as poised as the evening's openers, Bleach Blood sure as hell are fun to watch and their high tempo electro edged punk sounds great live. 'Anything Anything', recent release 'Darling Don't Dive' and set closer, the brilliantly anthemic 'Let Your Heart Sing', all finally elicit some crowd reactions, and suggest that as the band become more established, could make for killer moments in the set of a must see live act. (3.5/5)
It's pretty clear that those that have bothered to come out to the gig are there exclusively to see Natives, and there is an air of expectancy as the lads from the New Forest make their entrance. Coming so close after the release of the band's debut album 'Indoor War' (which I reviewed for Already Heard and loved), this would be some of the first live airings for many of the tracks. Given the intricately layered nature of many of the songs on the record, and the diverse array of instruments used, it wasn't too clear how well they would make the transition to the live setting. However, thanks to some neat use of pre-recorded backing tracks slotted around the live instruments and some outbursts of group percussion, Natives did a good job of capturing the scale and feel of the album.
With the exception of 'Stand For Something' and 'Hate.Fix.Hope', the set list was completely taken from 'Indoor War'; it was a sign of how well received the album has been that many in attendance seemed to know almost all of the songs word perfectly. 'Standard For Something' drew the night's first crowd sing along, whilst the irresistible groove of current single 'Can't Say No' actually managed to trigger waves of dancing throughout the room from start to finish. Renditions of 'This Island' and 'Going In Alone' were also well received before 'For Everything' brought proceedings to a close.
Natives' brand of thought provoking and infectious pop-rock does make for a hugely enjoyable gig experience, and in front of the right crowd can and will go down a storm. It's just a shame that nobody told this particular Leeds crowd to make a better job of showing their enjoyment. (4/5)
Words by Dane Wright (@MrDaneWright)