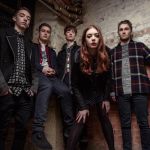 In what is a bit of a confusing choice of support, Trapped In Autumn open up, and honestly, it's not great. The band do attempt at some crowd interaction to the handful that are there for early doors, but the band's pop rock-esque music isn't exactly fitting for the night ahead (spoiler alert; it's ridiculously chaotic) and so don't really get any kind of hype from the crowd. The whole set feels quite amateur, on their own and in comparison to the following acts, and just, well, not fitting really. (2/5)
However, everything is previously forgotten once The Colour Line take to the stage. Having witnessed the band before I actually giggled like a school girl when I knew what was coming; chaos. I absolutely love chaos and these 5 lads from sunny Hull know exactly how to bring it. A few in the crowd were supporting The Dillinger Escape Plan tees and it's clear to see the influence in the band's material, with the insane rhythms and the slower, jazzy interludes that only quickly come to light. However, the band take TDEP's live set to a whole new level. It's much easier when playing smaller venues, but I still don't think I've ever seen the majority of a set take place in the audience, with other members on the bar and on another level of the venue itself. Vocalist Sam Rudderforth is constantly flailing over the floor and directing every shout and yell to anyone in the circle around him. The whole set is chaos and I can only imagine what it'll be like when this band have a bigger following with those who know every last word. I'm worried, but also I can't wait. You might not understand them musically but boy, do they put on a show. (4.5/5)
Now with a live show fitting for their arrival, Roadrunner's most exciting band Marmozets take to the small Manchester stage. The night largely consists of new material from their recently recorded debut album out later this year, and the new stuff is, well massive. Too big for such a small stage in fact.
I think the term "Mosh-Pop" quite accurately describes the majority of the band's new material; retaining choppy, tech based rhythms whilst melding them together with massive, hook filled choruses that are so accessible and allows for everyone to mosh or sing at their own will. It's a formula that's only going to see the band hit even bigger stages and a much bigger following. Latest single 'Why Do You Hate Me?' has sing-alongs as expected, but the first of the new material 'Move Shake Hide', released last year, really sees The Deaf Institute torn a new one with so many of the crowd getting involved as guitarist/vocalist Sam Macintyre brings his guitar and microphone intro the crowd.
With such an overwhelming reaction to the known new material, things will really kick off when the band drop the album and embark on a headline tour. The final song unveiled tonight is "the most tech song we've ever written", and it really is, showing that the band still hold their roots. Josh's kit is brought down into the crowd for the final slice of mayhem as the band hold their heads, and guitars, high in the air. I raise my clapping hands in celebration and here now, salute the new empire of Marmozets. (4.5/5)
Two of the best live bands in Britain have shown why all venues across the world should be worried. Sorry world, but you have been warned.
4/5
Words by Michael Brown (@MikeyMiracle)