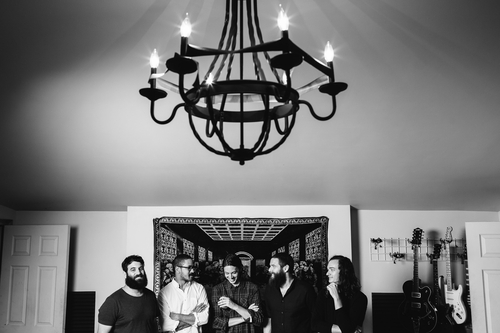 Manchester Orchestra have certainly gained a reputation over their years of being ones to watch live, taking all that emotion and passion on record and somehow topping it up in a live setting to make sure tears are shed. Of course, maximum revision had taken place leading up to the show to ensure all of the emotions were felt on the night.
Our first act was comprised of our other acts, as Bad Books is the band of members of our two latter acts; "We'll see you soon, and then we'll see you later" as Kevin rightly pointed out. Andy (of MO) and Kevin (of KDATGB) take turns on vocals and Kevin seems to be the one enjoying himself the most on stage, but in hindsight nothing seems to have as much impact as what the latter part of the show will do. It's certainly interesting to support yourself (unless you're in The Bronx/Mariachi El Bronx) but I'm sure hardcore fans are absolutely lapping it up, even if it's not exactly shown from the applause.
The last (and first) time I saw Kevin Devine was in Kingston in June 2012, where he performed sessions for us and I remember being pretty stunned by his voice and songwriting on that night, just myself watching Kevin delight my ears. It was a pleasure again to have Kevin delighting my ears, but also to such a larger crowd than that small venue above a pub south of London. This time, accompanied by a full band, songs from his latest releases 'Bulldozer' and 'Bubblegum' are majorly utilised, whilst 'I Could Be With Anyone' is of course delivered to the Leeds crowd. Still not quite the impact that Manchester Orchestra will deliver but it's nice to see wonderful talent brought over from across the pond.
I wasn't sure if I was ready, but as 'Pride' slowly started out and built and built until everything was crashing down with passion, emotion and everything I expected from Manchester Orchestra, I knew it was time. It wasn't the opener I expected, yet it felt so right. Drumming right on through into absolute "ballad" 'Shake It Out' and further into 'Pensacola' was a tour de force in it's own right. 
With the band's latest album artwork for 'Cope' donning the banner behind them, grittier, newer songs of 'Every Stone' and 'The Ocean' join in the party and fit in as well as any other song Andy Hull and co' can deliver. The lines of 'The Only One' are delicately sung by Andy as he's joined in 3 part harmonies over subtle guitar strums, giving a new experience to the song until everyone crashes in an unexpected and unbelievable climax. Despite having written incredible songs the band are still able to rewrite them in fresh and exciting ways, and whilst we're there to hear songs from records we adore, it's quite a nice after thought to realise how unique of a listening experience that was. Even more so with the encore of Andy, joined by Kevin, lowering the tone and bringing up the gentle tones as the encore takes place. A song about a head in a jar (yes, really) does feel like a bit of an anti climax, especially when 'April Fool' hasn't been brought to the table but a cover of, wait for it, 'The Fresh Prince Of Bel Air', is pretty damn unique.
It's not quite the show I was expecting, but with so much worthy material not everyone can be pleased. However, I'm still backing the reputation that Manchester Orchestra have built for themselves live. If you're a fan, you understand. And if you're not yet a fan then you will.
Words by Mikey Brown (@MikeyMiracle)