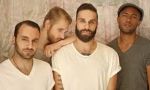 There's always a special air that hangs over the closing night of a tour. And for a tour that had quickly been pegged as one of October's best for this year, the air around the Electric Ballroom would be no less full of anticipation, as the final hurrah of an incendiary run of dates for Letlive and Night Verses quickly approached. Night Verses have been gathering a whole heap of attention thanks to their mammoth debut 'Lift Your Existence', and 2013 has been just as massive for Letlive, whose third album 'The Blackest Beautiful' has seemingly kicked the quintet into a whole new gear. In a night that would redefine "ending with a bang", the stars would align and a true gig of the year contender would emerge.
Night Verses would take to the stage earlier than planned, due to the cancellation of opening act The American Scene. Opening the night themselves proves to be no challenge, however, and you have to give credit where it's due to the technicians behind the band's lights and sound setup that makes them look and feel massive. Far too often it feels like support acts have something of a diminished presence but not tonight, and Night Verses are given free rein to tear into Camden's heart. 'Introducing: The Rot Under the Sun' opens their set in a similar, visceral fashion to the way in which it opens the band's debut album, and it's clear from the word go that the Letlive crowd is not going to stand by and remain static in the face of such an irresistible force. The track's chorus is the first of many "holy shit" moments that the night would end up delivering, and another would follow in the form of 'Rage' roaring into life. Vocalist Douglas Robinson has on on-stage presence akin to the one guy who always gets a little over-enthusiastic in the pit, but it's his lungs where the real fire is starting. The likes of 'Antidepressants' and 'Whatever Makes You Hate Me' follow, filling out a set that may see Night Verses go down as producing one of the best support band sets of the entire year. On a personal level, only Baby Godzilla in the exact same venue only six days before comes close, and on any other evening, Night Verses would have been more than a match for most bands that could have followed them. (5/5)
This, however, is Letlive's night from the start. When frontman Jason Butler ends up leaping into the crowd in the first minute of the band's set, you know that something quite brilliant is in store for the Ballroom. For an audience suitably built up by Night Verses and now in the presence of a band beginning to flirt with a near demigod status in their live shows, the night goes from strength to strength with no signs of stopping for a second. Whether it's the set's opening moments, the reaction to the opening bars of 'Dreamer's Disease', or the cover of Black Flag's 'Fix Me' that has begun to become a staple of Letlive's shows, there is a point by which everyone in attendance knows that they're witnessing something truly special. The mood seems to infect the band as well, and soon Butler's reputation for pouring his heart out on stage shines through once more. It's partly this that makes him such a mesmerising frontman, and you can't help but get behind such an outspoken vocalist. It's moments like this that you're able to appreciate Letlive for what they are; a band that seems to change each time they step out onto a stage and get hit by waves of almost feral euphoria.
Time has had just as much of an impact on the band, however. In the same way that the minutes and hours in Camden transform the quintet, the years have clawed and beaten away at the band and thrust them out the other end as something far beyond any of their contemporaries right now. You can say what you want about the ever-present post-hardcore scene that Britain has, but we haven't quite worked out how to compete with the likes of Letlive just yet. And with 'Muther' and 'Day 54' closing out the main setlist before an encore that heralds the final death throes of an incredible tour, the crowdsurfers ascend in their dozens, the frontline of an audience stopping at nothing to give back to a band that has given them everything. As already stated, the stars aligned for Night Verses and Letlive in Camden, and on a night that would have you wondering just how the Electric Ballroom stays standing, it's impossible to leave thinking of anything but the insanity that the bands have delivered, and how long it'll be until they're back to deliver it again. (5/5)
5/5
Words by Antony Lusmore