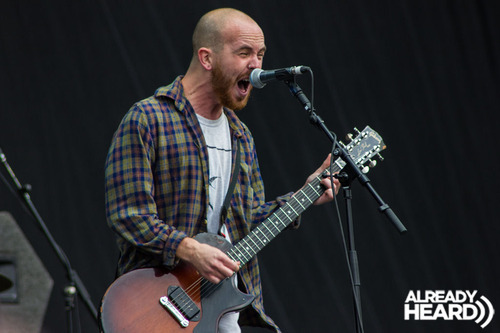 On paper today, the main stage line-up isn't too impressive and for the most part, we knew we'd be going back and forth between the NME/Radio 1 stage and The Pit tent. However, the prospect of seeing skate punk favourites Gnarwolves wasn't something we were going to miss. Admittedly the mass size of the main stage overwhelms both the band and crowd, and although the trio blasted their way through old and new cuts, the lack of intimacy effected the band's set. Added to that, the band's early set led to a somewhat smaller crowd than anticipated. Nevertheless for a grass roots UK band like Gnarwolves to make it to the main stage in such a short space of time has to be applauded. (2.5/5) (SR)
To those in the know, Lonely The Brave are the next breakout rock act in waiting; largely due to the genuinely awe inspiring vocal talents of singer David Jakes. Finally within a few days of the release of their debut long player, 'The Day's War', the five-piece drew a respectable, if not massive, crowd for so early on the event's final day. The band have a unique stage presence with guitarist Mark Trotter forming their live focal point while vocalist Jakes prefers to share the limelight equally with his band mates by being positioned off to one side. Live Jakes' voice is something that really must be heard to be believed, comparisons to being a younger, more raw Eddie Vedder are definitely Valid. Add into that, the sheer scale and expansiveness of Lonely The Brave's sound and how effectively melodic they are and you have the makings of a very special arena rock act in the future. (4/5) (DW)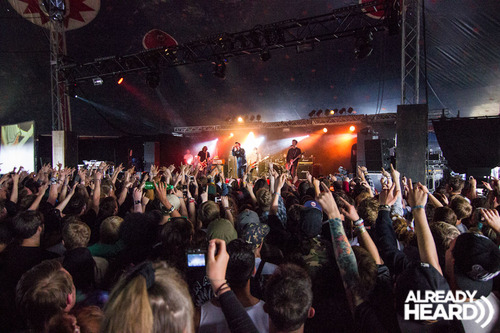 After a slight break and a run of interviews, we were back out in the field and over in the The Pit tent for the first time to witness Basement's Leeds Festival debut. Over the course of 10 songs, the Ipswich marked their return from hiatus with pure accuracy. Opening with 'Whole', vocalist Andrew Fisher leads the excited crowd in a mass singalong. With a set that picked out fan favourites from both of their full-lengths, Basement showcased why they have such a strong cult-like following. A memorable festival debut, and we'll be sure to catch the five piece on their October run of shows. (4.5/5) (SR)
This weekend's R&L shows will likely be the last hurrah for Don Broco and their 'Priorities' touring cycle, with the boys from Bedford imminently set to hit the studio to record their sophomore full length. The pure charisma and entertaining nature of their live show, which has seen DB make a meteoric rise from perennial tour support to out and out headliners in their own right, shines throughout Broco's fairly short outing. However, there are moments where the levels of energy and enthusiasm from band and crowd seem to lull and make things feel just that little off compared to the band's usually high, high standards. 'Thug Workout', 'Priorites' and 'Actors' all trigger waves of short but intense mayhem and a cracking airing of newest single 'You Wanna Know' at least makes sure proceedings end with a bang. (3/5) (DW)
Back in The Pit tent, Marmozets were playing for the second time today. Having appeared on the NME/BBC Radio 1 stage earlier in the day, this second set allowed the Yorkshire band to preview their forthcoming debut full-length in a more detailed light. Whilst their appearance at the Slam Dunk Festival this past May was one of the most explosive of the summer, today the quartet demonstrate their more heavier side. Alongside the band's twisted time signatures, front woman Becca Macintyre steps up with confidence in both presence and in her vocals. Even though it wasn't the band at their best, they still made us hungry for that all important debut. (3/5) (SR)
After being quiet for the most part of 2014, today marks a sort of homecoming for While She Sleeps. With crowds gathering from outside the boundaries of The Pit tent, the Sheffield group are given an overwhelming response. Musically WSS are raucous and sharp whilst vocalist Loz Taylor has seemingly overcome recent throat issues, and produces a display that is on par with his bandmates. (3/5) (SR)
After releasing their debut full-length, US metalcore titans Issues make their Leeds Festival debut to an overwhelming response. Clean vocalist Tyler Carter is as pitch perfect as he is on record whilst Michael Bohn compliments Carter with energetic and abrasive vocals.
Whereas the band's self-titled record often came across as the Tyler Carter show, tonight the Georgia group show they're are a tight, cohesive unit that have riffs and hooks to verify their relatively high billing. With breakdowns, catchy choruses and the occasional hip hop beat provided by Ty "DJ Scout" Acord, Issues show they are the whole package. (4.5/5) (SR)
Even though its clear the Yanks can pull off a high standard of metalcore, Architects show us Brits are as good, if not better. Tonight the Brighton quartet are on fire. Sam Carter's vocals are powerful and domineering throughout, whilst his band mates produce a thunderous, structured sound. With highlights coming in the form of 'Naysayer', 'Alpha Omega' and the concluding 'These Colours Don't Run', tonight feels like an achievement for Architects. They're a band that has overcome musical and personal struggles, and tonight shows they have come through it all on top. See you in March boys! (4.5/5) (SR)
Whilst local heroes Arctic Monkeys are giving Leeds Festival a send off on the main stage, we decided to end Leeds 2014 in the company of the California metalcore titans Of Mice and Men. Back in the UK and riding on the success of their third outing, 'Restoring Force', Austin Carlile and company quickly show why they're been given the task of headlining. Carlile is a commanding frontman who instantly has the crowd feeding off his every word and movement. Their sound is rapid and fierce yet it unfortunately falls into the trap of sounding like a number of other bands within the genre. Despite their bold sound, you can't help feel slightly disappointed by the choice of headliner. (2.5/5) (SR)
Overall Leeds Festival was, for the most part, a resounding success. The established acts of years gone by showed they are still capable of bringing it when they need to, and a load of emerging bands backed up any hype or talk they had beforehand.
Whilst the ever-increasing variety of genres is slightly unwelcoming, it is something that is required for Leeds (and Reading) to have in the current competitive UK and European festival market.
Besides the competition, this year showed Leeds Festival can still succeed and produce a memorable weekend.
4/5
View more of Already Heard's Leeds Festival coverage here.
Words by Sean Reid (@SeanReid86) and Dane Wright (@MrDaneWright). Photos by Carrie-Anne Pollard.