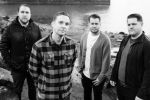 I Am The Avalanche have arrived in the UK on an all-time high. They just released 'Wolverines', their superb new full-length named after a beast which is fully symbolic of their characters: fighters who are determined to succeed whatever the odds might be. They're also playing a host of great shows this year, following an appearance at Groezrock with a European tour, and having also recently been added to the incredible Riot Fest roster in the US.
But for tonight they were doing what they love. Playing an intimate club show in Rock City Basement to a small section of their hugely devoted fanbase, who seem to hold the band at something approaching a cult status similar to that afforded to Vinnie Caruana's previous outfit, The Movielife.
Opening act Moose Blood were hand-picked by Vinnie after he requested a UK band joined the tour, and was given a selection of five by his manager. The young group from Canterbury have just finished recording their debut over in the US where they are signed to the prestigious No Sleep Records.
They quickly drew the growing audience in with a set of songs indebted to The Get Up Kids and early Saves The Day. They crafted affectionate and creative melodies, whilst keeping the structure of their music simple and not overburdening things lyrically. Eddy Brewerton has a strong, if sometimes slightly Americanised vocal, and once they become a bit more confident and self-assured you can see great things happening for these guys. (3/5)
Next came label-mates Major League, who were altogether less convincing. Their brand of pop punk would have sounded generic if the band had played ten years ago, so watching them pedal it now was a fairly empty and unedifying experience. The audience, save from a group of determined enthusiasts near the front, became detached and wandered to the nearby bar for a £3.50 can of Red Stripe. (2/5)
Thankfully final support Turnover weren't prepared to allow the headliners to come on to a cold crowd. Whilst still young guys, they displayed a lot more maturity and subtlety to their emo punk style than the previous bands, with burly frontman Austin Getz taking a refreshing pass on any forced stage banter, and letting his impressive vocals and the band's fluid soft/heavy/soft compositions do the talking. (4/5)
Having only just released the third album in their ten year existence, the temptation must have been for I Am The Avalanche to use a low-key show to do a 'Wolverines'-heavy set, allowing them to test all the new tracks out in a live environment. But these guys have always been very much in touch with their audience, and so instead we were treated to a well-balanced selection from the back catalogue.
However, it was apparent from the off that everyone in attendance was already very well versed in the new material, as every word to set-opener 'The Shape I'm In' was sung straight back at Vinnie as he leaned into the crowd with an expression of sheer delight on his face.
The whole place hung on every word of the charismatic former The Movielife frontman as he joked and chatted affably in-between crowd favourites such as 'Holy Fuck' and 'I Took A Beating', before the superb '177' demonstrated not only that the band are writing their finest material yet, but that Vinnie's voice is sounding better than ever.  
The New York outfit were slick and professional, with note-perfect harmonies and bassist Corey Perez and drummer Brett 'The Ratt' Romnes keeping a tight-as-hell rhythm section. Vinnie meanwhile displayed absolutely no symptoms of the back injury that almost ended his music career, bounding across the stage and generally looking, in his early thirties, every bit like the fired-up twenty year old from his previous band.
You got the impression he was genuinely feeling it when he sang, "It's times like these, mean everything", during the lively 'Amsterdam' as a by now frenzied mosh-pit leaned in as one to reach the mic themselves. Another newbie, 'Two Runaways' sounded huge live before 'This One's On Me' and 'Gratitude' ensured every album's best moments got an airing.
They ended things with an emphatic rendition of 'Brooklyn Dodgers', and overall the big impression made here was that this third release had given their set the strength in depth and versatility they needed to be treated like the real force they have become on a live setting. Bigger and bolder than ever, and with that Movielife tag shaken off once and for all, I Am The Avalanche are in their element and demand your attention. (5/5)
4/5
Words by Alex Phelan (@listen_to_alex)