Everyone loves a bit of nostalgia and tonight's trio of
Hell Is For Heroes
,
A
and
Vex Red
is the perfect mix for those want a dose of early 2000s Brit Rock. Tonight
'The Neon Handshake 15th Anniversary'
tour arrives in Nottingham.
Aldershot's Vex Red open the night to a steadily growing crowd. While they were vaguely hyped up 15 or so years ago, they never quite took off yet they're the only band who are currently active having reunited in 2016. Their brand of rock with hints of electronica and grunge is pleasing enough, setting the nostalgic tone for the rest of the evening. Songs such as 'The Closest' and 'Itch' are warmly received by the crowd but lack a lasting impression. Nevertheless 'Can't Smile' does wake up a section of the crowd up. (3/5)
While there's a sense of unfamiliarity to what Vex Red offer, for pop alt-rockers A that's not the case. For starters, they have a Top Ten UK single in their arsenal, yet they're keen to show they are more than a one-hit wonder. There's instantly an upbeat energy with guest bassist Dougie Poynter (of McFly fame) bouncing around the stage. As for vocalist Jason Perry, his slightly hoarse vocals aren't the best yet the skate punk-influenced tempo of songs like 'Bad Idea' and 'Monkey King' make up it. While A's "other hit", 'Starbucks' provides the first singalong of the evening.
In between songs, Perry acknowledges his age and ahead of playing 'No. 1', states "this might be a bit shit". Whereas Poynter comments that Perry is the man to blame "if you think McFly are shit." As they soldier through 'Something's Going On' and 'Foghorn', it's evident A haven't lost their youthful pop-punk spirit. By the time they end with 'Nothing' (of course), Perry's vocals show improvement while Poynter alongside guitarist Mark Chapman add some heavy drive to the finish their set off with. (3.5/5)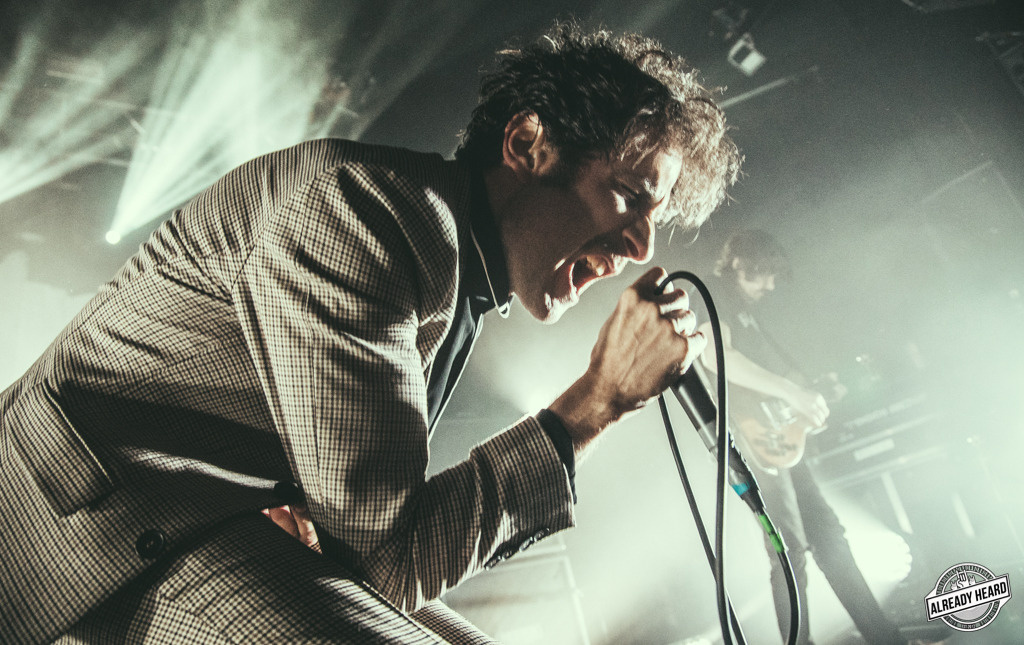 For a band that hasn't been active for close to a decade, it seems many people have missed Hell Is For Heroes. Maybe it's the nostalgia that's the attraction but HIFH are giving a rousing welcome as they walk on stage. From the moment they kick off with 'Five Kids Go' it's clear that the quintet hasn't missed a step, delivering a tight-knit set full of urgency. While Justin Schlosberg's vocals are as strong as they were 15 years ago as loosely moves across the stage. "It's good to be back in the city of rock," proclaims Schlosberg.
By the time they reach the midway album pairing of 'Three of Clubs' and juggernaut classic 'I Can Climb Mountains', Schlosberg is crowd surfing and doing cartwheels on stage. While he leads the enthralling crowd through 'You Drove Me To It'. Yet it's not all about the frontman as his bandmates replicate 'The Neon Handshake' note-perfect, capturing spirited drive.
Before they end 'The Neon Handshake' portion of their set with album closer, 'Retreat', Schlosberg teases a possible return making us think new material might be in the works. Nevertheless, an encore of three post-'Neon Handshake' songs, the sonically stunning 'To Die For', 'Into The Blood' and fiery closer 'Folded Paper Figures', along with their own unique spin on The Cure's 'Boys Don't Cry' end the night of an appreciative note.
While some bands of yesteryear might not give it their all, Hell Is For Heroes exceed expectations. Whether it's just a passing return or the start of a new chapter is yet to be seen. Either way, tonight is a firm reminder of Hell Is For Heroes's achievements. (4.5/5)
4/5
Words by Sêan Reid (@SeanReid86). Photos by Anthony Shaw Photography and taken at O2 Bristol Academy, Bristol – 16/02/2018.