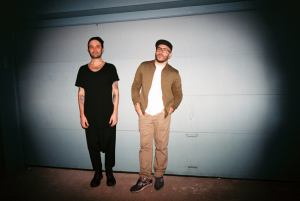 As we near the end of the summer, post-hardcore pioneers Glassjaw return to London for a one-off headline show, alongside their slot at ArcTanGent Festival in Bristol. Whilst the show hasn't sold out, there is still a healthy amount of buzz surrounding their return, as it's their first time showcasing songs off of their critically acclaimed third album 'Material Control'. Given it is their latest LP in 17 years, it's relieving to see Glassjaw come out on top and no longer having to perform material from it with the scepticism of the studio recordings ever seeing the light of day.
Announced as support four days before the show, Nottingham based hardcore outfit Palm Reader are greeted with open arms for arguably the biggest performance of their career thus far. Fittingly their latest record 'Braile' certainly shows off their versatility and technical take on the genre, with cuts such as 'Swarm' and 'Internal Winter', taking performance and sonic nods towards The Dillinger Escape Plan.  It's not all smooth sailing however as the unpredictable nature of the O2 Academy Brixton's sound meant at times the breakdown moments sounded rather flat, and don't quite reach the level of intensity you would get from seeing them in an intimate setting. By the end, they appear incredibly humbled by the roaring crowd response from even the most diehard of Glassjaw fans. (2.5/5)
With anticipation you could cut with a knife, it's time for Glassjaw to reclaim the spotlight. There is no extravagant backdrop draping behind them nor really much of a visual aura, bar two red and white flaps draped over the amps. Opening on 'Cut and Run', a meaty mosh pit opens up as layer after layer of huge, satisfying riffs cascade upon us.
All sound issues from an hour ago seem to have all but been forgotten as frontman Daryl Palumbo has the audience by his fingertips, as they angrily finger point along to nostalgic hits such as 'You Think You're (John Fucking Lennon)' and 'Tip Your Bartender'. What Palumbo lacks in talking to the audience between songs, is more than made up for with his signature, bombastic delivery, carefully poising around the stage and soaking up the crowd's intense energy.
We're barely given a moment to breathe as Glassjaw solider on, armed to the teeth with 20 songs that never meander with extravagant interludes or long-winded speeches about their meanings. The cutthroat ferocity of their 'Worship and Tribute' material has certainly stood the test of time, strategically placing 'New White Extremely' with classics like 'Ape Dos Mil' feeling seamless and ensures that we're all kept on our toes until the very end.
As the crowd surges into the centre for one last communal mosh to an encore of 'Siberian Kiss', Glassjaw prove once again why they're more than just an early 2000's nostalgic fling. They're still a marvel to witness after all these years and successfully destroying every obstacle that gets in their way.  (4/5)
4.5/5
Words by Ashwin Bhandari (@GIVEUPOX17)