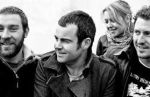 USA Nails have the unenvious task of warming up the sparse early crowd this evening, and they take to the stage and it seems obvious they're overwhelmed a bit in this space, with the guitars being massively lost amongst the roar of the speakers. Angry assault from the rhythm section makes up for the slightly less audible guitars. The banter is sparse but straight to the point. There's angry vitriol and railing against the inanities of life. It's enjoyable raucous, and i think worth seeing in a more intimate setting. (3/5)
A coven of inexplicably young lads takes to the stage. Mixing surf-pop 60s guitar sounds with 90s grungey riffs up against a near sheer walls of white noise, The Wytches have already attracted a crowd at the bottom of the stage. It's understandable where the buzz surrounding them comes from: they're young, energetic and they can cut a good riff. They look pretty much at home on the stage. There's a lot of appreciative nodding from the audience, and the room feels noticeably swollen by the end of their set. (3/5)
After an almost interminable wait, half tempted to try and navigate the now heaving space between the stage and the bar, lights dim. Silhouettes of Future of the Left take to the stage and break into the now de-facto opener 'Arming Eritrea'. That and the bounce-inducing 'Small Bones, Small Bodies', get a fired up crowd moving around and reacting in the usual manner of a hyped up crowd. The bass and drums knocks a punch right to the gut, while Falco's screeching vocals cut right through the noise.
If there was any doubt about whether songs from 'How to Stop Your Brain in An Accident' would figure alongside more established tracks 'Bread, Cheese, Bow and Arrow' silences those qualms with a sneering laugh and a towering lumbering behemoth of noise broken only by growling vocals. The harmonies sadly are a little lost amongst the mix. 'Future Child Embarrassment Matrix' drowns them further with a roar of white noise.
There's heckles, hecklers being put down with typical logic and precision ("you want him to be out of tune with respect to the rest of us? you understand nothing of relativity"), plenty of yells for old tracks, but the focus here is clearly on packing as much into this set as possible. The pace is kept high with a mixture of older tracks from the previous two albums, a rousing version of 'To Hell with Good Intentions', and a few more new tracks. The only thing that I'm a bit sad about missing is the harmonies which get lost in amongst the mix, but realistically, the sheer volume is pretty ear-blowing, and that's fighting a losing battle. The energy on the stage is palpable, with Guitarist Jimmy Watkins throwing himself around with wild abandon makes for good watching.
It seems to be nearly over before its even really gotten into full swing, but Falkous thanks everyone for coming along to one of the largest gigs they've ever played, and then promises us they'll be back. From the response I'd be happy to wager that venues of this size will be a more regular occurence on their future tours.
The cut glass crystal bbc-english of 'singing of the bonesaws' rings out and the slow burn of it fizzles away before unleashing the frenzy that is 'lapsed catholics' unto the audience. bodies start flying about in front of the stage, and all you can see are smiles, hair and flailing limbs, a joyful end to the set. lightsabre cocksucking blues, and the now well publicised selection of a member of the audience to have a beer can tapped to their head by jimmy Watkins takes place while the rest of the band raise sonic hell then leave feedback to take over. (4/5)
4/5
Words by Heather Robertson