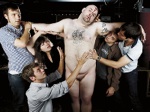 Tonight I and possibly several others are faced with a mind wrenching dilemma; at Academy 2, there is the Revival Tour led by Hot Water Music frontman Chuck Ragan, whilst down the road at The Deaf Institute, Canadian grandiose hardcore legends Fucked Up from Toronto, Canada are set to take the stage. After much consideration and biting my lip, I decide to go for the plugged in approach.
Trapped in what appears to be an invisible sphere of their own sound, noise rockers Salem Rages play very loud post punk rock 'n roll that is both slick and abrasive. Their approval from the audience is earned through the odd head nods and by the very fact that their sonic sound has opened everyone's ears for the night ahead. (3/5)
London trio Fair Ohs provide an unusual set of theatrics that are primed and locked on to the dance floor with sidewinding catchy beats and angular guitar patterns, all of which come under a formula that is brimming with varied influences from funk to garage. The trio hold all the traits that would make them perfect for post hardcore label Dischord, all that's needed though is a direct hit to their audience, something which they haven't quite seemed to grasp yet; the sparks are certainly there though. (3/5)
After a long and daunting wait, Fucked Up put any previous messages of their demise to bed by showing that they're well and truly fighting and breathing on their own feet. As soon as the band finishes a short and sweet euphoric instrumental, they eventually push the clutch into full throttle and explode into 'Queen Of Hearts' with ecstatic frontman Damian Abraham at the helm shouting into the faces of the crowd with his maniacal battle cries.
Most of the material stems from their brilliant 2011 third full length 'David Comes To Life', an album whose songs stretch out in a mesh of grand ambient indie rock flavoured into a sonic hardcore frenzy; 'The Other Shoe' and 'Turn The Season' witness the biggest reactions from the crowd who just as epidemically rabid as the band's frontman who lets himself be swarmed into the positive chaotic punk rock unity that is displayed here. The never ending peak is reached once the first notes of 'Son The Father' become unfurled into everyone's voice boxes who then return and spread this fantastic infection from one person to another.
An interval later and the band return to give tribute to the toxic enthusiasm of the room with fan favourites 'Police' and 'Generation', songs of which provide a fitting conclusion to what is essentially a perfect example of how spontaneous and tenaciously intimate a punk rock show should be. (4/5)
4/5
Words by Aaron Lohan (@ooran_loohan)