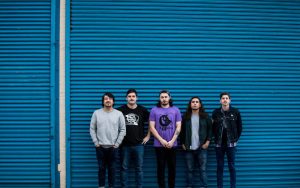 Ask any emo fan about their top releases from the genre in 2017, and a large majority of them will specify Free Throw and Dryjacket's albums. Along with the releases came a surge in popularity and extensive touring across America. Finally, it's the turn of Europe. Announced back at the end of last year, the promise of a Free Throw and Dryjacket tour was an exciting prospect, especially as the bands were hitting a large majority of places in the UK. It's rare for a band of Free Throw's size to play both Cardiff and Bristol on the same tour, so for South Wales emo fans, tonight is a stroke of luck.
Dryjacket take the floor at around 19:45 to a large welcome, proportionate to the crowd density. Soft-spoken and reserved, the band prefer not to waste time with a big intro speech, instead of giving a quick thank you before starting their first song, 'Misused Adrenaline'. It's a crowd pleaser for sure, as the room sways and sings along in unison. Disaster seemingly strikes, however, as guitarist Brad Wyllner breaks a string, having to change it during the song's outro and in the interim. The band make a quick save, though, and fill the time with some crowd interaction, joking about their awkwardness and how they've now exhausted all their interaction for the night.
It's not long before the string is reset and tuned, and the band are underway again. It's clear to see as their set goes on the impressive musicianship from every member of the band. Adam Cerdan's drumming and Joe Junod's guitar work sync up in perfect math-rock harmony, while bassist Ian Foley's distinct voice rings out during the choruses as his fingers skirt rapidly up and down his guitar.
After rounding off with 'Bill Gates' Ringtone, Dryajacket give the small crowd a genuine thank you for their attendance, but the crowd are much more appreciative towards the band. An awkward sense of humour and pure talent have won the crowd over, and left them with a set they won't soon forget, broken strings included. (4.5/5)
As predicted, the sparse audience size remains as Free Throw singer and guitarist Cory Castro opens proceedings with 'Open Window', the first track from 2017's 'Bear Your Mind. It's a song of two halves, with Castro singing and playing alone before the full band come in in raucous fashion. Despite the energy of the second half, the crowd isn't moving too much, instead choosing to simply sing along. It's far from what Free Throw are used to back in the States.
The set continues with high energy, as the band play a mixture of songs from 'Bear Your Mind' and previous album 'Those Days Are Gone'. The more traditionally emo songs of the latter sound much fuller live, while the former's more punk side is amplified, particularly 'Randy, I Am the Liquor', which proves to be a favourite of many in Clwb tonight. There are few stops for audience interaction, but the music speaks for itself with Free Throw, and the emotion emanating from the corner of this small bar in South Wales is palpable. Castro's vocals are captivating, performing smooth cleans and emotional breaks of the voice effortlessly.
The set ends with 'Two Beers In', a song that sums up everything Free Throw are about, heartbreak and alcohol. The fans in the room are highly responsive to this track and mirror every word Castro screams into the mic. Easily likeable and sonically impressive, Free Throw successfully lived up to the buzz that seems to follow them. (4.5/5)
A larger, more active audience would have improved both sets, especially Free Throw's, but both bands did the best with what they were presented. With the hype surrounding them growing, hopefully, it won't be too long until these two bands return to our shores.
4.5/5
Words by Ben Mills (@BenMills28)