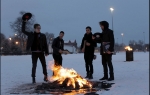 I think it's safe to say that there is a huge weight on Fall Out Boy's shoulders before tonight's gig; it is their first in the United Kingdom for over three years and their return from "hiatus" (the cynical will scoff at the term) has been hyped up more than the horsemeat scandal. With tickets snapped up in seconds and the gig selling out before it had even officially gone on sale (damn time-travelling ticket buyers) expectation was certainly at fever pitch for tonight's tiny gig at the Underworld.
It is nice to see that on the night and despite reports to the contrary, the crowd was comprised not of industry types but of genuine, passionate Fall Out Boy fans with a couple of notable exceptions (A special shout out goes to the fully grown man who deliberately and repeatedly elbowed a teenage girl in the face for a better crowd position, almost knocking her unconscious. Nice one, dickhead). Apart from this frankly terrifying vying for crowd position, there is such a euphoric vibe in the venue tonight. This all comes to a big messy, sweaty climax (not euphemistic) as the band take to the stage and launch into a triple salvo of 'Thriller,' 'I Slept With Someone In Fall Out Boy…' and 'A Little Less Sixteen Candles, A Little More Touch Me' to open the set. There's barely time to catch breath before 'Dead On Arrival' is unleashed and the crowd goes extra wild for the 'Take This To Your Grave' favourite. By this point, several of the faint-hearted in the crowd have succumbed to the intensity of the performance and have been dragged out the crowd, as the band urge fans to take a step back to prevent further casualties.
It doesn't get much better for those in the heat of the mosh-pit, with "Fall Out Boy National Anthem" 'Grand Theft Autumn' arriving soon after; it is testament to the dedication the band show towards their fans that they play a career-spanning set tonight and not just the "hits". The best moment of the set from a personal standpoint is getting to hear 'Honourable Mention' live (being able to shout "I CAN BE YOUR JOHN CUSACK" is explanation enough, surely). The track, taken from 'An Evening Out With Your Girlfriend' forms part of a medley of sorts midway through the set encompassing rarities like 'Lake Effect Kid' and 'Calm Before The Storm.'
Whilst there is little interaction between songs (although there are some choice quips) there is a moment that Pete Wentz takes to speak earnestly to the crowd about the reasons for tonight's reunion. He speaks from the heart about the "transformation" he goes through when onstage and the release that it gives him personally and professionally. It is at this moment the concert goes from a cynical reunion show to something more transcendental; a moment that clarifies the reasons the band reunited and melts away any lingering cynicism. These guys love being a band and it shows tonight.
After closing, supposedly, with the iconic 'Sugar We're Going Down', the band return for a phenomenal rendition of 'The Patron Saint Of Liars And Fakes', a crazy sing along for 'Thnks fr th mrms' and fan-favourite 'Saturday' to create a perfect end to a perfect set. Fall Out Boy are definitely back, and if you've been reading this whole review feeling nothing but jealousy (sorry, not sorry)then you'll be pleased to hear you might be seeing them on tour sooner than you think, with Wentz hinting the band may be back to do headline shows before their scheduled Reading and Leeds performances this summer. Whenever they return though, I'm sure they will be welcomed with open arms.
5/5
Words by Tom White (@Whiteywitters)