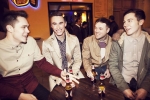 Having sold out the London Camden Underworld impressively fast for a first headline tour – that completely sold out anyway – Don Broco added another leg onto the tour, finishing with a special show at the Camden KOKO, aptly titled "Broco at KOKO."
I arrived in Camden a little later than expected, causing me to miss most of Decade's set, a band who I have to admit I was completely unaware of up until this show. I don't know what I missed but the band had the crowd in the palm of their hand, with the crowd moving in unison and singing along, making me think I should really know who this band are. With a very similar sound to You Me At Six, Decade seemed to fit and command the stage in the way that Pure Love and Don Broco did, proving their appearance on the bill was very much deserved. The vocalist while not moving as much as you would expect of someone singing as strongly as he did, playing a genre that is synonymous with energetic stage shows, had such a great voice, singing melodies and catchy choruses consistently and perfectly. I'm sad to have missed the whole set but Decade made a great impression on the crowd, and the friends I was with even turned to me and mentioned how good they were. I'm going straight to iTunes after this review to get their music.
Now, Pure Love. Just, wow. I didn't expect to see them supporting Don Broco, and I don't think they were about to let them being a support act give them a reason to not display exactly why they've made such a name for themselves so quickly. Everybody knows Frank Carter from Gallows and this is the reason why people were skeptical about them at the beginning, but Pure Love proved straight away that they were deadly serious and are a force to be reckoned with. Frank Carter paraded the stage, speakers, railings and crowd with the energy and charisma he was famous for in Gallows, including being stood in the middle of the crowd for the first 2 or 3 songs. Not one to hold back speaking his mind when the crowd obviously wanted to get in Frank's bubble, Frank responded by threatening to 'cave your fucking face in' to an overzealous fan, and pointed out his wedding ring to another fan who grabbed his bum and mentioned he was spoken for and to respect the ring, which got a good chuckle from the crowd. The goliath of a guitarist was also full of the energy and presence that Frank was, crowd surfing while playing solos, running around the balconies, standing on the crowd and pulling some of the funniest faces I've seen a guitarist pull. The set ended with the drum kit being placed in the middle of the crowd while a circle pit ran around it, and Frank Carter climbed up the balcony. During the set I'd actually forgotten that Don Broco were headlining because of Pure Love's natural stature and amazing show, and I was actually worried for Don Broco. But that was until they were due to come on.
Despite Pure Love's adrenaline fuelled performance, it was obvious while waiting for Don Broco to come on that it was Don Broco's show. The atmosphere was electric and everybody was talking about what was going to happen. Coming on to 'Priorities' opened the crowd into a frenzy, people falling over everywhere and everybody singing along to every word. The set continued with constant crowd favourites, getting cheers with every introduction, or without even being told what song was going to be played. What may be cliche at other shows, Don Broco's unique touch to the human pyramid included them being egged on to do a pushup which caused a huge reaction from the rest of the crowd.
The set closed with an encore followed by 'Yeah Man' and 'Hold On' which included giant red balls dropped from the ceiling donning the band name, and ended the set on a huge high. For a band that have had their debut album out for less than a year everyone knew all the lyrics, and every song seemed to be a potential hit. It was pretty obvious that the whole crowd knew they were witnessing something special and felt like they were included in it with the band. 
I'm proud to have been a part of this show, and to have witnessed such a proud moment for the band. Pure Love, or Frank Carter to be specific seemed to push the boundaries a little, poking fun at Don Broco a little too much at times which seemed to make the crowd take it a little more than a joke. Although, Frank Carter did say that 'the fact of the matter is we're supporting, and they're headlining', and that they're lucky they're still on the tour which shows that they (Broco) could obviously take a joke. As Don Broco's set finished it appeared to me that while their most famous songs at the moment appeared early in the set, the set didn't diminish at all in quality; every song seems to have that potential to be a hit and the crowd knew every song and sang it back with just as much enthusiasm as Damiani. The night ended on an incredible high, and I'm still buzzing from it now. One of the best gigs I've had the fortunate opportunity to go to.
5/5
Words by Callum McPhee