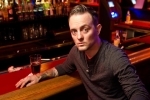 If you want to grab the audiences' attention, then being 6"4 definitely helps. Opening for tonight's Dave Hause show is Canadian Matt Goud, better known by the name Northcote. Recently signed to Xtra Mile, Northcote is like Chuck Ragan on steroids, he blasts his way through an uplifting set of acoustic tracks, managing to warm up an audience who are obviously only here to see Dave Hause. There's something faintly hypnotic about Northcote's stage presence, and as a result he manages to keep the audience completely rapt with barely a murmur heard from them between songs. No mean feat for a relatively unknown artist, and as a result, an undoubtedly impressive set. (4/5)
Of course, tonight is Dave Hause's night to 'shine' (bad song title reference, sorry!). Riding off the success of his second full-length solo album 'Devour' he tears through a set that effortlessly blends old and new material, leaving off no fan favourites and resulting in a sing-a-long that even drags in the people at the back of the bar.
A lot of thought and planning has clearly gone into Dave's set, and it's clear he's ready to reinforce himself as a solo artist in his own right. Older fans however may be disappointed as nearly all of The Loved One's material has been unceremoniously dropped from his set (though 'The Bridge' and 'Jane' have made appearances on a few select dates). A fan who repeatedly requested 'Louisiana' between songs was promptly shot down by Hause, in an excruciatingly painful exchange that revealed a sharper edge to Hause's usually personable stage presence. It's understandable though, considering Dave Hause is clearly striving to shake off associations of old.
Personally, the lack of older songs makes little difference, as Hause has strong enough new material to carry the set without falling back on his more well-known material. Newer songs like 'Damascus' and 'We Could Be Kings' are met with a seal of approval, ballad 'Bricks' sounds both beautiful and uplifting with lyrics to rival 'Heavy Heart' (another song met with applause), while 'The Shine' has already established itself alongside older fan favourites like 'C'mon Kid' or 'Resolutions'. Older songs are revitalised with piano sections, and Northcote joins Dave on stage to lend a hand with a few tracks – adding an extra dimension to songs that have been played over and over.
As his fan base grows, it's quickly becoming clear that Dave Hause is not only a musician but also a showman, and his ability to meticulously plan a winning set without it feeling rigid and unfeeling is a skill in itself. In a moment of self-awareness, Dave Hause opens album closer 'Benediction' with the lines "Oh my friends, time to go, did you enjoy the show? Did you dance? Did you drink? Did you take any notes?" It's this breaking of the third wall and understanding what his audience desire that makes his live shows stand out. Tonight, he seems elated by the audience response and in turn, they seem ecstatic with him. This year has been Dave Hause's year, and as he bounds from strength to strength, I'm excited to see where next year takes him. (5/5)
Words by Jay Sullivan